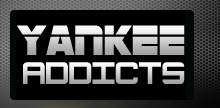 April 5, 2013 · Josh Housman · Jump to comments
Article Source: Bleacher Report - New York Yankees
The New York Yankees looked doomed in spring training, and their opening series against the Red Sox this week did not help silence any of their naysayers.
After losing the first two games by a combined nine runs, they were able to take the third game to avoid an embarrassing opening series sweep at home by their hated rivals from Boston. Despite recording a win in their most recent contest, many of the Yankees' preseason doubters seemed to be proven right over the course of the first three games.
Often times, too much can be made of the first week or two of the season and fans, players, coaches and writers can jump to very large conclusions based on an incredibly small sample size. However, often times, early season trends can be indicators for season-long issues. Can we take away any major lessons from this weeks' Yankees-Red Sox series?