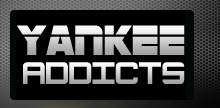 News published by
July 31, 2012
The New York Yankees acquired infielder Casey McGehee from the Pittsburgh Pirates in exchange for reliever Chad Qualls right before the trade deadline on Tuesday, according to Joel Sherman.While the ...
July 24, 2012
The New York Yankees have the best record in baseball and now they have a future first-ballot Hall of Famer in their outfield.The Bombers acquired Ichiro Suzuki from the Mariners ...
June 21, 2012
In this year's first Subway Series two weeks ago, the Yankees capped their sweep of the Mets with a walk-off homer by Russell Martin.This time around, the series will end ...
May 4, 2012
Mariano Rivera tore his ACL shagging fly balls during batting practice on Thursday night in Kansas City, and while the loss of the Yankees' top relief pitcher will certainly be ...
February 17, 2012
A.J. Burnett's much-maligned tenure with the Yankees appears to be over.MLB Network's Ken Rosenthal reports that New York and Pittsburgh have come to terms on a trade that must be ...
January 7, 2012
The New York Yankees have had their share of outstanding catchers over the past century, so where does Jorge Posada rank on that list?With the 40-year-old veteran reportedly set to ...
December 8, 2011
Last year, the New York Yankees missed out on signing Cliff Lee and wound up with a rag-tag rotation that included Ivan Nova, Freddy Garcia and Bartolo Colon.While those starting ...
October 18, 2011
After missing out on Cliff Lee this past offseason, the Yankees entered 2011 with a bunch of question marks in their rotation.Could A.J. Burnett bounce back from the worst season ...
September 20, 2011
With a little more than a week left in the regular season, the New York Yankees have little to worry about. Unlike last year, they are a comfortable five games ...
May 23, 2011
Probably my favorite moment of the Yankees' season so far took place Sunday afternoon against the Mets.With the score tied at three and nobody out in the bottom of the ...