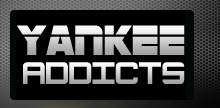 September 20, 2011 · Jordan Schwartz · Jump to comments
Article Source: Bleacher Report - New York Yankees
With a little more than a week left in the regular season, the New York Yankees have little to worry about. Unlike last year, they are a comfortable five games up on the Boston Red Sox for the American League East lead and are even 3.5 up on the Detroit Tigers for the best record in the AL.
Despite the fact that the Bombers' final 10 games come against the Tampa Bay Rays and Boston, they can just worry about getting their rotation in order for Game 1 of the AL Division Series next week in the Bronx.
But could the Yanks make things that much sweeter by helping knock the arch rival Red Sox out of the playoffs? Should New York lay down against the Rays, who trail the Sox by only one game in the loss column in the Wild Card race?
The wise move would be to try and take two out of four from Tampa Bay this week, lock up home-field advantage, then go all out against Boston this weekend and send out the back-end of the 40-man roster to face the Rays down in Florida next week.
Here are the pitching match-ups for the next three days:
Tuesday, Sept. 20—Ivan Nova (15-4, 3.81) vs. Wade Davis (10-9, 4.41)
Nova is not the best rookie pitcher in the AL. Jeremy Hellickson, Guillermo Moscoso and Michael Pineda have all had better seasons because Nova's 15 wins are largely due to the fact that he has received 9.1 runs of support per start, the second most in the Major Leagues behind John Lackey.
That's not to say Nova, who could be the No. 2 starter in the playoffs, hasn't had an excellent year. He's won his last 11 decisions and hasn't lost since June 3.
The right-hander's only outing this year against the Rays came back on May 17, when he held them to just one run on four hits over 5.1 innings to earn the 6-2 victory. Nova is 1-0 with a 5.17 in three career starts versus Tampa Bay.
Johnny Damon has four singles in four at-bats against the 24-year-old, but the rest of the team is 6-for-47 (.128) off him.
Davis tossed a complete game gem against the Red Sox on Sept. 9, his second in four starts, but then followed it up by yielding four runs over 6.1 innings versus the Orioles on Wednesday.
He has not faced the Yankees this year, but is 2-2 with a 3.81 ERA in five career starts against them, including a 1-0 record and 2.25 mark in the Bronx.
Robinson Cano is 5-for-12 (.417) with a homer off Davis, Derek Jeter is 5-for-13 (.385) and Alex Rodriguez is 4-for-12 with two blasts. Mark Teixeira, however, is just 1-for-10 with four strikeouts.
Wednesday, Sept. 21 (Game 1)—Phil Hughes (5-5, 6.00) vs. James Shields (15-11, 2.78)
Hughes, who has been dealing with back spasms, will be making his first start in nine days. He's had two quality outings in his last two starts, but prior to that, he turned in a couple of clunkers and the chances of him making the postseason rotation seem remote. Still, he should add to a formidable bullpen in October.
The right-hander allowed two runs on four hits with six strikeouts over six innings of a 9-2 win over the Rays on Aug. 13 and is 4-3 with a 4.28 ERA in 11 career appearances (six starts) against Tampa Bay.
The current roster hits just .191 off him and Casey Kotchman and Ben Zobrist are both 0-for-10.
Shields, who has been magnificent over his last five starts, has been equally impressive against the Yankees this season, giving up just four earned runs in 22.2 innings (1.59 ERA).
That's a stark difference from his career stats versus New York, which find him 4-10 with a 4.25 mark, including 1-2 with a 3.71 at the new Stadium.
Cano is an awesome 20-for-50 (.400) with three homers off Shields, but Curtis Granderson is a woeful 3-for-38 (.079) with 12 strikeouts.
Wednesday, Sept. 21 (Game 2)—CC Sabathia (19-8, 3.01) vs. Jeremy Hellickson (13-10, 2.91)
The second game of the doubleheader features a guy going for his 20th win against one eying the Rookie of the Year Award.
Sabathia will look to bounce back from a poor performance at Toronto, where he surrendered four runs on 10 hits and four walks over 5.2 innings.
The big lefty has allowed seven runs in 25 frames (2.52 ERA) against the Rays this season and is 9-7 with a 3.13 facing them in his career.
Kotchman is just 4-for-21 (.190) with eight strikeouts, but Evan Longoria is 10-for-28 (.357) with four homers and a 1.393 OPS.
Hellickson has been great over his last six starts, but his season against the Yanks has been uneven. He allowed two runs over seven innings in a win on July 19, but faltered at Yankee Stadium on Aug. 13, when he gave up four runs in 4 1/3 frames. The right-hander is 2-1 with a 4.80 ERA in four career outings versus New York.
Cano is 4-for-7 (.571) with a home run off Hellickson, but Russell Martin and Nick Swisher are both 0-for-5.
Thursday, Sept. 22—Bartolo Colon (8-9, 3.81) vs. Jeff Niemann (11-7, 3.95)
As expected, Colon appears to breaking down a bit as he continues to reach innings pitched totals he hasn't seen in six years. Just two of his last six starts qualified as quality outings and he hasn't won since July 30.
The right-hander is 0-2 with a 4.50 ERA against Tampa Bay this year, but 9-4 with a 3.71 in his career.
Damon is 18-for-54 (.333) off him and the entire current roster hits a lofty .315.
Niemann held the Yanks to just one run over 7.1 innings for a 5-1 win on July 7, upping his career record against them to 3-0 with a 3.10 ERA. He is 2-0 with a 3.00 in the Bronx.
Jeter is 6-for-13 (.462) with three doubles off him, but Granderson is 1-for-14 (.071) with seven strikeouts.
Follow me on Twitter @ JordanHarrison.
Jordan is one of Bleacher Report's New York Yankees and College Basketball Featured Columnists.
He can be reached at jordanschwartz2003@yahoo.com
Read more New York Yankees news on BleacherReport.com