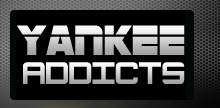 February 17, 2012 · Jordan Schwartz · Jump to comments
Article Source: Bleacher Report - New York Yankees
A.J. Burnett's much-maligned tenure with the Yankees appears to be over.
MLB Network's Ken Rosenthal reports that New York and Pittsburgh have come to terms on a trade that must be approved by the Commissioner's Office because of the amount of money involved.
The Pirates will reportedly pick up $13 million of the remaining $33 million on Burnett's contract through 2013, while shipping a pair of lower-level minor leaguers to the Yankees in the deal.
This is all the Bombers will get in return for a guy they signed to a five-year, $82.5 million contract on Dec. 12, 2008.
Some forget, but Burnett was actually an important part of the Yankees' 2009 world championship team during his first year in the Bronx.
He went 13-9 with a 4.04 ERA and hurled seven innings of one-run ball in an important Game 2 win over the Phillies in the Fall Classic.
But the 35-year-old will be mostly remembered for his final two years in New York. He went 10-15 with a 5.26 ERA in 2010 and 11-11 with a 5.15 last season. In '10, he led baseball with 19 hit-by-pitches and in '11, he led baseball with 25 wild pitches.
The most frustrating part about Burnett was his inconsistency. If he was always terrible, the Yankees would've given up on him a long time ago, but the Arkansas native had flashes of brilliance, like when he went 4-1 with a 3.93 ERA last April. In fact, Burnett's ERA was under 5.00 in every month but one in 2011.
And that was the biggest problem.
When Burnett was bad, he was really bad. In five starts last August, he went 1-2 with an 11.91 ERA.
With the recent additions of Michael Pineda and Hiroki Kuroda, Burnett could have been used this year as a fifth starter or a long man out of the bullpen, easily being lifted at the first sign of his frequent blowups.
But instead, the Yankees will try to use the $13 million to sign a designated hitter like Raul Ibanez, who they will need to replace Jesus Montero, who they traded to Seattle for Pineda in the first place.
Jordan Schwartz is a New York Yankees Featured Columnist. Follow him @JordanHarrison.
Read more New York Yankees news on BleacherReport.com