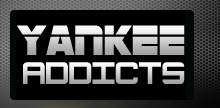 October 18, 2011 · Jordan Schwartz · Jump to comments
Article Source: Bleacher Report - New York Yankees
After missing out on Cliff Lee this past offseason, the Yankees entered 2011 with a bunch of question marks in their rotation.
Could A.J. Burnett bounce back from the worst season of his career? Would Phil Hughes be able to live up to expectations after his 2010 record was overinflated thanks to a ridiculous amount of run support? How much would the Yanks get out of over-the-hill veterans Freddy Garcia and Bartolo Colon? And how much of an impact would rookie Ivan Nova provide?
For the most part, New York's pitching staff overachieved, posting a 3.73 ERA, fourth best in the American League.
They were once again headed up by ace CC Sabathia, who led the team in wins, ERA and strikeouts, but come the postseason, the load was too much to shoulder for the big lefty, who was forced to pitch in three games with Garcia and Colon both worn down and Nova bowing out to injury.
In the end, the Yankees just didn't have enough pitching and will be forced to once again look for reinforcements this winter.
Here are the 2011 grades for the Yankees' pitchers that tossed at least 30 innings: