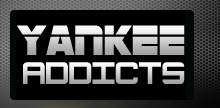 December 8, 2011 · Jordan Schwartz · Jump to comments
Article Source: Bleacher Report - New York Yankees
Last year, the New York Yankees missed out on signing Cliff Lee and wound up with a rag-tag rotation that included Ivan Nova, Freddy Garcia and Bartolo Colon.
While those starting pitchers overachieved in the regular season, the second-rate crew couldn't carry the Bombers past the first round of the playoffs.
Entering this offseason, the Yanks again needed to target starting pitching to support ace CC Sabathia. With Mark Buehrle headed to the Marlins with a four-year, $58 million contract, and top free-agent hurler C.J. Wilson following Albert Pujols to the Angels today, signing for $77.5 million over five years, New York is left once more to pick up the scraps.
Wilson told Jack Curry of the YES Network that he was surprised the Yankees didn't go after him, stating, "Who wouldn't want to be a Yankee?"
General manager Brian Cashman has indicated that the prices are too high for these free agents, but it's hard to believe the richest organization in baseball can't afford to outbid Miami and Anaheim.
So who is left for New York to add to its questionable rotation?
The club is said to have interest in Japanese ace Yu Darvish. The 25-year-old right-hander is 93-38 with a 1.99 ERA over seven seasons for the Nippon Ham Fighters.
Those are pretty impressive stats, but the Yankees have to be weary of signing another Japanese pitcher after the Kei Igawa debacle.
Edwin Jackson, who went 12-9 with a 3.79 ERA for the White Sox and Cardinals last year, is another option, but his asking price is said to be too high.
It looks as if the Yanks will instead rely on the trade market with eyes on Gio Gonzalez, John Danks and Jon Niese, but it seems strange that a team with such deep pockets would choose to unload prospects in exchange for top starters, instead of just snatching them up in free agency.
Jordan is one of Bleacher Report's New York Yankees and College Basketball Featured Columnists. Follow him on Twitter @ JordanHarrison.
Read more New York Yankees news on BleacherReport.com