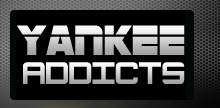 News published by
March 11, 2011
Tommy John's hopes of a bust in Cooperstown have long since died. In 2009, the BBWAA unceremoniously snuffed out his candle and sent him into MLB Purgatory with only 31 ...
May 11, 2010
New York Yankee Designated Hitter Nick Johnson has been placed on the Disabled List for 15 days.I am not going to pretend to not be the guy who says, "I ...
April 29, 2010
This is my most recent endeavor. I am compiling All-Franchise Teams based on African Americans. The idea came to me as a result of the recent hiring of Joe Morgan ...
February 25, 2010
Why would the New York Yankees neglect to re-sign Derek Jeter before now? At the end of this season he will be a free agent. This is the final year of ...
December 23, 2009
By Caesar Cliffius ------------------------ The New York Yankees sent Melky Cabrera to the Atlanta Braves for a return engagement of pitcher Javier Vazquez . The move may have helped support the pitching ...
December 21, 2009
Why on earth do the New York Yankees want Nick Johnson? Being frustrated at talks with outfielder Johnny Damon is not a legitimate reason to sign an overpaid injury-plagued ...
December 10, 2009
First things first, I don't hate the New York Yankees. My best friend loves them, so I must dignify everything I say about them. The latest acquisition , center fielder Curtis ...
December 7, 2009
To report that Andy Pettitte will be back on the mound for the New York Yankees in 2010 is no more surprising than saying they will play their home games ...
July 13, 2009
Welcome to installment No. 3 of the All-Franchise teams. I am endeavoring to formulate the All Time Team in each franchise's history. A few parameters need to be established ...
June 18, 2009
While the baseball world looks disdainfully at Manny Ramirez, life goes on as usual for self-proclaimed cheater, liar, and breaker-of-rules Alex Rodriguez.  It seems like a perversion of justice, ...