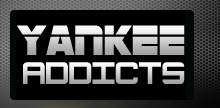 December 21, 2009 · Cliff Eastham · Jump to comments
Article Source: Bleacher Report - New York Yankees
Why on earth do the New York Yankees want Nick Johnson? Being frustrated at talks with outfielder Johnny Damon is not a legitimate reason to sign an overpaid injury-plagued journeyman.
Johnson started his big league career with the Yankees in 2001, when he tipped the scales higher than his batting average of .194.
He stayed in New York for three years and never put in a full season. His best year was 2003 when he hit .284 with 14 HR and 47 RBI. He averaged .254 with 10 HR and 38 RBI, while only averaging 256 AB.
Johnson played with Montreal for one year and moved with them to Washington.
He stayed with them until being sent to the Florida Marlins midway through the 2009 season.
His best year with the Nationals' franchise was 2006 when he batted .290 with 23 HR and 77 RBI. Although being only a .277 career hitter, he has a good OBP of .402
The departure of Hideki Matsui and the stalled talks with Damon have the Yankees looking for someone to be a consistent DH.
Johnson has a propensity for winding up on the shelf at least once a season.
He has only averaged 390 plate appearances per year and actually missed the entire 2007 season. 2006 was his high-water mark in games played with 146.
The $5.5 million he presumably will get in 2010 is very high for the expected return on the investment.
Can you expect any more than what you have seen in the past?
Matsui signed with the Los Angeles Angels for a reported $6.5M one-year deal. Somebody help me.
I am trying to see if there is only a million-dollar difference in the past performances of these two men.
I say the gap is wider than that.
If they could pay that much for a player such as Nick Johnson, why couldn't they have shelled out an extra $1M for Godzilla?
Johnson's defense is a liability. That, coupled with Mark Teixeira playing first base for several years to come, leaves Johnson nowhere but being a DH.
Maybe the Yankee brain trust sees more in this deal than I do.
I just firmly believe that much money could buy a much better player.
What are your thoughts?
Please visit my website where this article was first published.

Read more New York Yankees news on BleacherReport.com