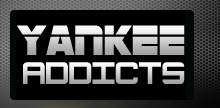 December 23, 2009 · Cliff Eastham · Jump to comments
Article Source: Bleacher Report - New York Yankees
By Caesar Cliffius
————————
The New York Yankees sent Melky Cabrera to the Atlanta Braves for a return engagement of pitcher Javier Vazquez . The move may have helped support the pitching staff but it has left the outfield as weak as water.
Cabrera, 24, played in 154 games in 2009 with 103 of them in center field. He batted .274 with 13 HR and 68 RBI.
The outfield was juggled considerably last season with Xavier Nady being out all season. He doesn't show up on their roster or depth chart, so it is unclear what their plans are for him, considering that he is a free agent.
Now, with the exodus of Cabrera the Yankees will certainly use Curtis Granderson , who they obtained in the offseason from the Detroit Tigers, to patrol center field.
According to their roster they now show only four outfielders, Granderson, Nick Swisher , Brett Gardner , and Jamie Hoffman . Is it just me, or is that paper thin? The management looks more than a little disorganized, with their hard-nose stance against Johnny Damon and now trading away their former starting center fielder.
Do I see a strong move toward Matt Holliday or Jason Bay on the horizon? Will they attempt to mend fences with Damon? We are talking the New York Yankees here folks, money is not a concern. That is evident by signing an injury plagued designated hitter for a one-year deal of $5.5 million, the current salary of Florida Marlin shortstop Hanley Ramirez .
If you were forced to start an outfield using the four men on the roster, you would be hurting. Gardner in left, Granderson in center and Swisher in right, with Hoffman in the dugout.
I certainly hope they have some horses on the farm who are just about ready to leave the corral. Their move for Nick Johnson which I have already criticized , solidified their need for a DH for as long as he can keep himself off the DL. Johnson, much like Jim Thome, can do nothing but DH. I am surprised that they didn't attempt to sign Thome as a designated hitter. He has a tad better OBP than Johnson, and the diminutive yard the Bombers play in now, he could be good for 50 HR.
The Yankees already have two No. 1 pitchers in C.C. Sabathia and A.J. Burnett . Andy Pettitte could be the No. 1 guy for a few teams himself. So what's the plan, five No. 1 starters? That would be great if accomplished, but not if it means your outfield is as thin as Ichabod Crane.
Just my opinion, what is yours?
Please visit my Web site where this article was first published.
Read more New York Yankees news on BleacherReport.com