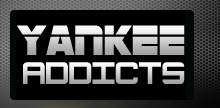 February 25, 2010 · Cliff Eastham · Jump to comments
Article Source: Bleacher Report - New York Yankees
Why would the New York Yankees neglect to re-sign Derek Jeter before now?
At the end of this season he will be a free agent. This is the final year of a 10-year $189M contract.
It is not good to send you franchise hit leader into Spring Training with the thought of free agency on his mind. There is more than one team that would be delighted to have the future Hall of Famer (I hate it when people say that) anchoring their infield.
Jeter, 35, had one of his better years in 2009 batting .334 with 18 homers, 66 RBI, 212 hits, 107 runs and an OBP of .406.
He made it clear that he wants to stay with the Yankees, and that he never imagined being a free agent or playing with another team.
"To be honest with you, I never put limitations on how long I can play. …. I want to play as long as I can, as long as I'm having fun, as long as I can be productive," Jeter said. "This organization prides itself on winning and putting a competitive team on the field. As long as I can help out, that's as long as I want to play."
Jeter is the most beloved active Yankee and I could only imagine the uproar of the fan-base if they let him slip away.
In an age of deceit, lies and drugs, Jeter remains the symbol of the All-American man.
You can just see him sitting down to a glass of milk and a piece of apple pie right now, can't you?
Jeter came up to the majors in 1995 and won the American League Rookie of the Year award the following year. He batted over .300 in 11 of his 15 seasons in the Bronx.
He had over 200 hits seven times, scored over 100 runs 12 times and knocked in 102 runs in 1999.
Jeter has been named to 10 All-Star teams, won four Gold Gloves and four Silver Sluggers.
In 38 World Series games Jeter has an average of .321, with 50 hits, 32 runs, 3 homers and 9 RBI.
There is little doubt that the Yankee Mucky Mucks will let him go, but what is the purpose of tossing a seed of doubt into a man's head as he enters the final year of his contract?
Here are his career numbers:
Read more New York Yankees news on BleacherReport.com