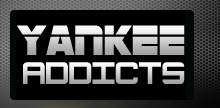 News published by
August 11, 2009
It's no secret that the fifth and final spot in the starting rotation has been an Achilles' heel for the New York Yankees this season. In spite of the team's great ...
August 2, 2009
Ransom (n.): a consideration paid or demanded for the release of someone or something from captivity With the way that the New York Yankees' offense has performed recently, you could say ...
July 31, 2009
In an attempt to add bench depth at the deadline, the New York Yankees have acquired Cincinnati Reds' utilityman Jerry Hairston Jr. While it was not known who was traded at ...
July 31, 2009
It's something that every baseball player has heard of, but only a select few are "privileged" enough to be featured on it. I'm talking, of course, about "the list"—104 players who ...
July 14, 2009
After 88 hard-fought games, the New York Yankees finally have a chance to breathe, thanks to a four-day break—the usual three-day All-Star break and a scheduled off day on Thursday. Then ...
June 12, 2009
For Yankees fans, the pouring rain at the end of the final game fit the overall mood pretty well. When Mark Teixeira hit a screamer right at Boston's Kevin Youkilis ...
June 7, 2009
Entering the 2009 season, not many people were confident about the Yankees' bullpen situation. Outside of Mariano Rivera, the team lacked a true workhorse, someone who could do whatever the ...
June 5, 2009
Yesterday, news broke that Yankees pitcher A.J. Burnett would be fined and suspended for six games for throwing high and inside to Rangers right fielder Nelson Cruz on Tuesday. Riots instantly ...
June 4, 2009
After activating Chien-Ming Wang from his rehab assignment on May 22, the Yankees found themselves in a bit of a predicament—they now found themselves with six capable pitchers to fill ...
June 2, 2009
There's an old saying in football: Offense sells tickets, defense wins championships. If that's the case in baseball, then the New York Yankees are doing quite well for themselves. While the Yankees ...