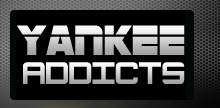 June 7, 2009 · Nick Klopsis · Jump to comments
Article Source: Bleacher Report - New York Yankees
Entering the 2009 season, not many people were confident about the Yankees' bullpen situation. Outside of Mariano Rivera, the team lacked a true workhorse, someone who could do whatever the team asked at any time.
Enter Alfredo Aceves.
Now, people outside of New York might be scratching their heads and asking each other, "Who the heck is this guy?"
Two years ago, scouts were asking the same thing.
Pitching in the Mexican League for six years, Aceves was a solid starter, going 34-23 with a 4.06 ERA with the Yucatán Leones and Sultanes de Monterrey.
After watching him dominate the competition in 2007 with an 11-5 record, 3.64 ERA and 70 strikeouts, the Yankees inked him to a minor-league deal the following season. He then proceeded to have a phenomenal rise through the Yankees farm system, going a combined 8-6 with a 2.62 ERA for Tampa, Trenton, and Scranton before reaching the top club in August of that same year.
He was called upon in early September to replace an ineffective Darrell Rasner and did not disappoint, as the team won all four of his starts. He ended the season 1-0 with a 2.40 ERA in 30 innings pitched.
Then, Joe Girardi converted Aceves to a reliever in Spring Training. He did not make the Opening Day roster and was optioned to AAA Scranton to perfect his stuff.
Boy, did he perfect his stuff.
Since being called up to the majors this season as a reliever, Aceves has been nothing short of spectacular, going 5-1 with a 2.54 ERA, 40 strikeouts, and 15 walks. This season, he has been lights out, posting a solid 4.8:1 strikeout-to-walk ratio and a 1.11 WHIP.
But that doesn't even begin to tell the whole story.
The most interesting aspect about Aceves is his versatility. He can pitch in long relief, set up for Mo, or spot start when needed.
On May 21, Aceves was called on to replace an injured Joba Chamberlain. He pitched 3.1 innings of shutout ball, allowing three hits and a walk. Four days later, he came on again in relief, pitching one inning against Texas in the wake of a Yankees offensive blowout.
Aceves truly is a jack of all trades coming out of the bullpen.
His Yankee teammates have certainly been paying attention, and two of the senior members of the ballclub have especially taken special note. Jorge Posada has said that Aceves reminds him of former Yankee Orlando "El Duque" Hernandez, and Andy Pettitte likens him to Ramiro Mendoza during the Yankees' championship years—an important swingman who did whatever was asked of him, regardless of the situation.
Reviews like those aren't just given to anybody. Aceves certainly deserves those compliments for what he's done up to this point.
For Yankees fans, however, the beautiful thing about Aceves is that he is only 26 years old. He's going to be an important piece of the Yankees' pitching puzzle for years to come.
Pretty soon, everyone outside of New York won't be scratching their heads and asking each other who Aceves is. Rather, they'll be scratching their heads and asking each other how to stop him.