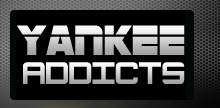 June 2, 2009 · Nick Klopsis · Jump to comments
Article Source: Bleacher Report - New York Yankees
There's an old saying in football: Offense sells tickets, defense wins championships.
If that's the case in baseball, then the New York Yankees are doing quite well for themselves.
While the Yankees have had an offensive renaissance since the return of third baseman Alex Rodriguez, one of the most important—yet often overlooked—reasons for their success has been their stellar defense.
Last night, the team broke the major league record for consecutive error-free games with their 18th game played.
During this stretch, the Yankees are 14-4 and have reclaimed first place in the AL East, thanks in large part to the defensive clinic that they've held every time they take the field.
It was not always this way, however. The Yankees' fielding was one of their biggest areas of concern entering the season. Brett Gardner and Melky Cabrera weren't drawing any comparisons to Joe DiMaggio. Johnny Damon and Derek Jeter were supposed to have lost a step due to age. Robinson Cano wasn't supposed to recover from his dismal 2008 campaign.
So much for those question marks.
Nowadays everyone's getting in on the fun—even hefty Joba Chamberlain, whose bellyflop to catch a popped-up bunt in the fifth inning of last night's game may have caused an earthquake somewhere in the world.
In order to sustain this success, the Yankees must continue to have defensive gems out there on the field.
Overall, the team is 27-8 when they do not commit an error in a game.
Compare that to their 3-13 record in games that they do commit an error, and you can see that the Yankees' success this season is contingent upon their defensive prowess.
In addition, a great defense can be a pitcher's best friend. Knowing that they have a strong defense backing them up, pitchers are more likely to be aggressive and go after opposing hitters.
A solid defense will help the Yankees' pitchers—especially their shaky bullpen—become that much more effective.
Let the offense sell tickets. The Yankees' defense will take them to the World Series.