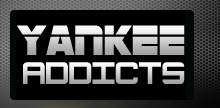 June 5, 2009 · Nick Klopsis · Jump to comments
Article Source: Bleacher Report - New York Yankees
Yesterday, news broke that Yankees pitcher A.J. Burnett would be fined and suspended for six games for throwing high and inside to Rangers right fielder Nelson Cruz on Tuesday.
Riots instantly broke out within the Bronx. Upset fans overturned vehicles and set fire to local buildings, police were called in to keep the angry mobs of flaming bat-wielding people at bay, and general chaos ruled the streets.
Okay, so that didn't really happen.
But the way many fans reacted certainly could have made you think that something odd was up, especially considering the Rangers' Vicente Padilla, who instigated the whole thing by hitting Mark Teixeira twice in consecutive pitches, escaped the principal's office with nothing more than a lighter wallet.
You could say the MLB brass were trying to hold to their recent standards for suspensions. After all, Red Sox pitcher Josh Beckett was suspended for six games after throwing some high cheddar at ex-Yankee Bobby Abreu.
If that's the case, however, why wasn't Padilla suspended at all for plunking Teixeira not once, but twice? I'm sure Tex's bruises are still big enough for fans to argue that Padilla deserves to be parked for at least 10 games.
That's beside the point, however. What matters is that Burnett's pitch nearly hit Cruz in the head. Accident or not, there could have been potentially devastating consequences.
Now, I'm not saying Burnett shouldn't have protected his teammate and retaliated. If one of my guys gets hit twice out there, I'm not just going to sit there and take it.
But where do you draw the line between retaliation and serious injury?
For Major League Baseball, the answer is increasingly becoming "the head."
If Burnett wanted to retaliate, he could have thrown anywhere else and it would have been fine. Maybe if he brushed him off the plate with a fastball by the hands, we wouldn't be having this conversation.
But going for the head? That will certainly catch the league's eye, especially with a history of careers getting cut short by facial injuries.
Dickie Thon instantly comes to mind. A shortstop with Hall of Fame potential, his life was instantly changed when he was hit in the head by a Mike Torrez fastball on April 8, 1984, breaking the orbital bone around his left eye.
While he did come back the following season, he was never the same.
Does Major League Baseball really want another Dickie Thon indicent on its hands?
The answer is no, and in order to do that, the league is throwing its own high-and-inside warning to Burnett, Beckett, and other pitchers: Pitch near the head and suffer the consequences.