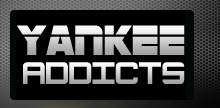 June 4, 2009 · Nick Klopsis · Jump to comments
Article Source: Bleacher Report - New York Yankees
After activating Chien-Ming Wang from his rehab assignment on May 22, the Yankees found themselves in a bit of a predicament—they now found themselves with six capable pitchers to fill five slots.
Such is the life when you have too many starting pitchers.
This is definitely something the Yankees have not seen in a while. Last year, they had 12 different starting pitchers start games due to a combo platter of injuries and ineffectiveness.
(As a side note, there were technically 13 different pitchers who started games last year, as setup man Brian Bruney started on April 9 when rain threatened to wash out the game. For the sake of simplicity, I'm only using actual starting pitchers.)
Of those 12, seven had ERAs above 4.00, and six had ERAs above 5.00.
Translation: The Yankees had a pretty below-average rotation.
This season, they have six quality starters who can come in and pitch well on any given day, which begs the question: What is to be done?
First off, let's get this out of the way: CC Sabathia, A.J. Burnett, and Andy Pettitte are not going anywhere. This is more of a discussion about which two pitchers should fill out the back of the rotation.
Last night, Joe Girardi made the call to insert Wang back in the rotation and put youngster Phil Hughes in the bullpen for the time being.
In addition, fans have been clamoring for Joba Chamberlain to return to his previous role as an eighth-inning bridge to Mariano Rivera, thereby leaving both Wang and Hughes in the rotation.
Still others are not fully convinced that Wang is back to full shape and want him to stay in the bullpen as a long reliever and spot starter.
There have even been arguments made for a six-man rotation so that everyone can start.
Let's look at each of these options in greater depth and find out which one is best for the team.
Wang and Joba in Rotation, Hughes in Bullpen
Girardi's rationale for putting Wang back in the rotation was that the team believes in the stuff that won him 46 games in two-and-a-half years. Wang has delivered in his few relief appearances so far, allowing two runs and nine hits in eight innings of work while cutting his ERA from 34.50 to 16.07.
While Wang would be allowed to reassert his dominance in the rotation, this means that Hughes will be losing out on valuable seat time. He has performed admirably while filling in for Wang and has shown flashes of dominance, especially during his start against Texas on Memorial Day.
Keeping Hughes in the bullpen means less work, which could have its consequences once Hughes returns to the rotation. Hughes is too good to go back down to AAA, so he'd just be sitting idly waiting for the bullpen phone to ring.
Wang and Hughes in Rotation, Joba in Bullpen
I could write a whole separate article on this alone. One of the most popular choices among Yankee fans, this would allow both Wang and Hughes to continue their successes on the mound, as well as giving Joba the chance to return to what made him so popular back in 2007 when he was first called up.
I'll say it again: Joba does not belong in the bullpen. The Yankees need Joba to mature into his role as a starter, and putting him back into the bullpen would be completely counterintuitive. The only reason why he should return to the bullpen is if he is recovering from injury or has reached his pitch limit for the season.
Like Hughes, Joba has shown us that he can be a staff ace in the near future, and he can only get better with experience in the rotation. To quote Brian Cashman, "Wake up and smell the coffee." Joba is a starter, for better or for worse.
Hughes and Joba in Rotation, Wang in Bullpen
Well, this would solve the problem about giving seat time to the younger pitchers, as Hughes and Joba could continue to develop behind the seasoned veterans ahead of them.
However, you now have a proven workhorse in Wang who is finally cured and has voiced his displeasure with not being in the rotation. This one doesn't quite make sense to me.
A Six-Man Rotation
This is a good idea in theory—just push everyone back a day and slide Wang into the rotation as it is now. That way, everyone gets to start.
The problem is, most pitchers these days are so routine-oriented that giving them an extra day of rest could throw the entire balance of the rotation out of whack. I wouldn't recommend this as a long-term solution, but if there was a way to keep the rotation as effective as possible, then I like it.
Overall, I think Girardi made the right move in sending Hughes to the bullpen and promoting Wang to the rotation. While it definitely had to have been a tough decision, Wang is ready to contribute now that his sinker has regained its drop and his fastball has regained its velocity.
Hughes is very young and will definitely have a chance to come back into the rotation into the near future. He definitely has major league-quality stuff, so sending him down to AAA Scranton would be pointless, other than to get some work every fifth day.
My bet is that something will happen where Hughes can crack the rotation, but other than that, he can provide a direct lift to the bullpen.
Gotta love the "problems" the Yankees are having now, huh?