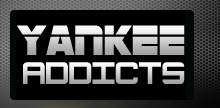 News published by
February 2, 2013
The infield shift is one of the most effective yet frustrating strategies used in sports. Originally used by Cleveland Indians Manager Lou Boudreau to halt Boston Red Sox legend Ted Williams, ...
February 1, 2013
On Thursday, Andrew Marchand of ESPN reported the New York Yankees acquired veteran slugger Travis Hafner.From Marchand: "Sources said Hafner, who also can play first base, will receive a one-year, incentive-laden deal."This ...
January 30, 2013
Colorful New York Yankees catcher Francisco Cervelli is a man of steadfast grit, inspiring hustle and high-octane passion. A fan favorite in the Bronx, this Venezuelan/Italian native boasts a pesky ...
January 26, 2013
New York Yankees prospect Tyler Austin was not a well-known player at the start of the 2012 season. But in less than one year, Austin has steadily risen through the ...
January 21, 2013
New York Yankees general manager Brian Cashman has taken significant heat this winter from two key sources of the Pinstripes' fan base. The first camp wants to see the Yankees ...
January 17, 2013
Sometimes the leaders of big league teams make roster moves that leave the fans scratching their heads.Applied to the New York Yankees, it seems odd that 28-year-old prospect Ronnier Mustelier ...
January 15, 2013
In 1993, the Topps baseball card company released its now-famous Bowman card set.This set featured the rookie card of New York Yankees left-handed pitching prospect Andy Pettitte.The back of Pettitte's ...
January 12, 2013
Just a month and change remains before the thrilling kickoff to spring training 2013.As the thump and thwack and crunch of cleats scurry through our imaginations, questions remain regarding what ...
January 4, 2013
The New York Yankees won the American League East and appeared in the ALCS in 2012. Still, there seems to be a sharp divide between three camps of Yankees' fans ...
January 1, 2013
Recently, ESPN writer David Schoenfield wrote a detailed feature about the New York Yankees and their success in spite of old age. Rebuking doomsayers, Schoenfield time-traveled 18 seasons (to when ...