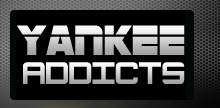 January 17, 2013 · Mongoose Morisette · Jump to comments
Article Source: Bleacher Report - New York Yankees
Sometimes the leaders of big league teams make roster moves that leave the fans scratching their heads.
Applied to the New York Yankees, it seems odd that 28-year-old prospect Ronnier Mustelier has been left off the Pinstripes' 40-man roster.
Mustelier is a 5'10", 210-pound utility player who defected from Cuba in 2011.
A smooth-hitting righty with a nice compact swing, Mustelier obliterated minor league pitching in 2012.
In 114 games between the Trenton Thunder and SWB Yankees (now the RailRiders), Mustelier batted .314 with 15 homers and 69 RBI. He also smacked 27 doubles, stole 10 bases and garnered a respectable .371/.455/.815. OBP/SLG/OPS.
Mustelier also hit .284 (59-for-208) with nine home runs, 33 RBI and nine stolen bases in 55 games for the Tomateros de Culiacan of the Mexican Winter League.
Yet for all of Mustelier's upside (which includes a solid work ethic), Yankees' brass has not added this MILB.com Organization All-Star to the team's 40-man roster.
The big question is, why?
Some Yankees fans say there is simply no room for Mustelier on the Pinstripes at the big league level.
Those who say this have a solid argument. While Yankees' leadership has moved this guy around in his short minor league career, he seems to be cornered no matter what.
For example, Mustelier's MILB.com profile lists him as a third baseman.
This of course puts Mustelier in direct conflict with a big league club that already boasts freshly-inked all-star Kevin Youkilis. The Yankees signed Youkilis in the wake of a tough hip injury to starting third baseman Alex Rodriguez.
Add third base prospects David Adams (on 40-man roster) and Dante Bichette Jr. to the mix, and it looks like Mustelier has no shot to break in with the big club at this position.
Same thing goes with the second base position. Mustelier began his pro career here.
But Yankees fans know full well that Robinson Cano holds down 2B in the Bronx. Behind Cano on the Yankees depth chart is Eduardo Nunez and 24-year-old prospect Corban Joseph.
Mustelier can also play outfield. However, he runs into a slew of outfielders who are standing in his way.
Mustelier must not only contend with Ichiro Suzuki, Curtis Granderson and Brett Gardener, but he also plays in an organization that boasts a ton of outfield talent.
In light of these facts, it seems Mustelier is in a pickle. On one hand this guy looks like a mature player who could help a big league team. But in reality, Mustelier may be one of those players that struggles to break into the show, temporarily at least.
Who knows? Perhaps Mustelier will spark further debate by impressing Joe Girardi and Co. when spring training rolls around.
Hopefully Mustelier does impress. Stories about the out-of-the-blue rise of relative unknowns are always good for the spirit.
Read more New York Yankees news on BleacherReport.com