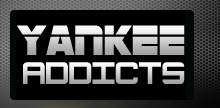 January 15, 2013 · Mongoose Morisette · Jump to comments
Article Source: Bleacher Report - New York Yankees
In 1993, the Topps baseball card company released its now-famous Bowman card set.
This set featured the rookie card of New York Yankees left-handed pitching prospect Andy Pettitte.
The back of Pettitte's rookie card foresaw great things to come for the Pinstripes:
The 6-foot-5, 220-pound Andy is anything but petite. A high-80's fastball befits his size and has been his most lethal weapon in compiling a two-year pro ERA of 2.01.
A 22nd-round pick of the 1990 MLB June Amateur Draft, Pettitte was a prospect in a Yankees minor league system loaded with pitching depth.
Fresh from Deer Park High School in Texas, Pettitte was scouted as a tall and lanky hurler with a smooth delivery, solid command and an excellent pick-off move.
In 1992, Pettitte showed the Yankees his potential.
Just 20 years old at the time, Pettitte built a 10-4 record with a 2.20 ERA in 27 starts for the Greensboro Hornets of the Class A South Atlantic League. Pettitte also struck out 130 and walked 55 in 168 innings pitched.
The remaining chapters of Pettitte's highly decorated big league career is history.
Flash forward two decades later. The Yankees may have found Pettitte's protégé.
His name is Nik Turley.
Turley, a 6'6," 230-pound left-hander from La Canada, California, has climbed to 12th place on the Yankees' top prospects chart (ahead of Dellin Betances).
Like Pettitte, Turley was drafted out of high school, though much later, in the 50th round of the 2008 First-Year Player Draft.
Per NJ.com sportswriter John Nalbone, the 22-year-old is already drawing comparisons to Pettitte.
While not as dominant as Pettitte was back in 1992, Turley still had a nice season in 2012.
Pitching for the Tampa Yankees of the Class-A Florida State League, Turley compiled a 9-5 record with a 2.89 ERA in 21 starts. He struck out 116 and walked 44 in 116 innings pitched.
This season, Turley is projected to begin the season at Double-A with the Trenton Thunder. However, he's also a member of the Yankees' 40-man roster.
Should Turley pitch well in spring training, he may very well join Pettitte in pinstripes.
Talk about having a great mentor to work with everyday.
While Turley has eons to go before being considered in the same class as Pettitte, guys like him go to show that, sometimes in an era of overhyped prospects, future stars rise from the depths…right beneath experts' noses.
Now if I could only get my hands on a few of Turley's 2013 Bowman rookie cards.
Read more New York Yankees news on BleacherReport.com