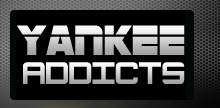 January 30, 2013 · Mongoose Morisette · Jump to comments
Article Source: Bleacher Report - New York Yankees
Colorful New York Yankees catcher Francisco Cervelli is a man of steadfast grit, inspiring hustle and high-octane passion.
A fan favorite in the Bronx, this Venezuelan/Italian native boasts a pesky bat and a solid knack for handling pitching staffs.
Yet, for all of Cervelli's upside, the 26-year-old backstop's pro career has been a roller coaster of promotion and odd demotion, such as when he failed to make the club out of spring training in 2012.
Now that Russell Martin is gone, Cervelli finds himself as the lead stallion in a race with Chris Stewart and Austin Romine for the Yankees' starting catcher position.
In his fourth year of MLB service, could Cervelli finally settle into the post-Jorge Posada era as the Yankees' everyday backstop?
Opinions are mixed on the career-.271 hitter at this point, but perhaps the end of spring training will tell.
Should Cervelli become the starting catcher, could the blue-collar young man with fire in his spirit ignite this aging Yankees team to new heights?
Cervelli certainly has a history of energizing the Yankees. This was especially true in 2009 when he filled in for Posada and Jose Molina when they both went on the disabled list.
In promising fashion, Cervelli stepped up and batted .298 (28-for-94) in 42 games for the Yankees.
That year, Derek Jeter and Co. defeated the Philadelphia Phillies in six games to win their 27th World Series.
Near four years later, Cervelli has a golden opportunity to put his outside-the-box-score intangibles to good use.
But in order to achieve this end, Cervelli must prove one thing to Joe Girardi this spring training—Cervelli must prove he is less a flash in the major league pan, more a steadfast catcher that can spark the Yankees to victory.
Read more New York Yankees news on BleacherReport.com