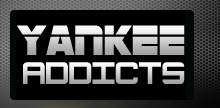 January 21, 2013 · Mongoose Morisette · Jump to comments
Article Source: Bleacher Report - New York Yankees
New York Yankees general manager Brian Cashman has taken significant heat this winter from two key sources of the Pinstripes' fan base.
The first camp wants to see the Yankees make a huge splash in free agency. The second camp wants to see Cashman stay the course by home growing prospects and getting below the luxury tax.
Perhaps one monster deal with the Houston Astros, would help Cashman please both sides of the aisle.
Understand that this possible trade would not come until mid-season, and would depend largely on the progress Alex Rodriguez makes with his surgically-repaired hip.
It also takes into account that the Yankees have a few talented outfield prospects who may very well make the club right out of spring training.
In this admittedly speculative trade, the Yankees would ship Curtis Granderson, Kevin Youkilis and Brett Gardner (or a player to be named later) to Houston.
For the Astros, this would instantly bolster a lineup that needs all the help it can get to compete in the AL West in 2013.
In exchange, the Yankees would receive a few specific players from Houston. These players will not only help the Yankees get younger, but it could also help this team find a balance between staying competitive and meeting frugal financial obligations.