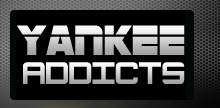 News published by
April 21, 2011
This past offseason, when Cliff Lee turned down the Yankees' offer for the Phillies and Andy Pettitte retired, the Yankees were left with very few options to fill their rotation. ...
April 3, 2010
Last October and November was a time that all Yankee fans will never forget. The Yankees blew through the post season to their 27th world championship, and their first championship since ...
April 1, 2010
Six years ago, Javier Vazquez came into Yankee spring training, being touted as the "ace" of a shaky Yankees pitching staff, but also looked at as the future of the ...
December 8, 2009
According to several reports published today, the Yankees are close to acquiring center fielder Curtis Granderson from the Detroit Tigers in a three-way deal with the Diamondbacks and Tigers, ...
December 7, 2009
According to sources of ESPN's Buster Olney, Andy Pettitte will pitch in 2010, and his return is just a matter of working out a deal with the Yankees . His decision ...
June 9, 2009
On May 5th, the New York Yankees were "on a treadmill to oblivion" according to Yankees Radio play-by-play man John Sterling. Through the first 26 games of the season, the Yankees ...
June 5, 2009
Major League Baseball yesterday handed out yet another controversial suspension over a pitcher throwing at a batter. It all started in Tuesday night's 12-3 victory by the New York Yankees over ...
June 1, 2009
The debate just won't end. Two years ago, the New York Yankees started an experiment that would pay big dividends in helping them reach the postseason. They decided that a pitcher who ...