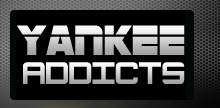 June 1, 2009 · Mike Gurnis · Jump to comments
Article Source: Bleacher Report - New York Yankees
The debate just won't end.
Two years ago, the New York Yankees started an experiment that would pay big dividends in helping them reach the postseason.
They decided that a pitcher who had spent most of the season in Double-A Trenton, and who had been a starter his whole career, could help the Yankees out of the bullpen, possibly as an eighth inning setup man to Mariano Rivera.
Joba Chamberlain had arrived in New York.
Chamberlain would not disappoint, quickly shining in the bullpen with a 98-mph fastball and a virtually unhittable slider. Games essentially turned into seven-inning affairs.
Chamberlain would come in during the eighth inning and overmatch almost every hitter he faced, posting a 0.38 ERA in 19 appearances for the Yankees and helping them reach the postseason for the 13th straight year.
This would only be a quick fix though, as Chamberlain had been a starter his whole life and was widely believed to be more valuable as such in the long term, with the ability to throw four plus pitches.
Due to an innings limit by the Yankees front office, Chamberlain started out 2008 in the bullpen for over a month until manager Joe Girardi finally moved him into the starting rotation.
Chamberlain certainly had his good moments as a starter, including a 1-0 victory over Josh Beckett and the Red Sox in late July.
But he also had a problem that many pitchers run into these days: He was throwing too many pitches and had problems getting past the fifth inning.
An injury in August moved Chamberlain back to the bullpen. But this year, he began the season in the rotation, where it's believed he will remain for the entire 2009 season.
But once again, he is struggling to get past the fifth inning. In nine starts this season, he's posted a pretty good 3.97 ERA, but is averaging exactly five innings per start, which leaves the rest of the game up to a very ineffective bullpen.
Right now, two-time 19-game winner Chien-Ming Wang is sitting in the bullpen, but the Yankees will eventually work him back into the rotation. But who will Wang replace?
Phil Hughes has been up and down this season, posting a 5.45 ERA in seven starts. But the Yankees will likely keep him in the rotation because, with an under-2.00 ERA in Triple-A this year, it's clear the only way he'll learn to pitch at this level is if they keep him up here.
With an inconsistent Yankee bullpen, the logical choice would be to move the lockdown Chamberlain back there, instantly shortening games and thus helping the Yankees reach the postseason.
Why Girardi and Brian Cashman are so hesitant to do this, I'm not sure. You've got an inconsistent bullpen, and sending Hughes down to Triple-A won't help him progress.
I've always wanted Chamberlain in the rotation, but with the situation right now, if the Yankees want to get the most out of their pitchers, putting him in the bullpen is the most logical move.
Does he need to be there for the long term? No. He can go back to being a starter next year, especially if Andy Pettitte doesn't return.
But the best way to help this team win right now is for Chamberlain to be in the 'pen.