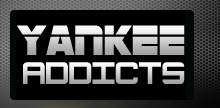 June 5, 2009 · Mike Gurnis · Jump to comments
Article Source: Bleacher Report - New York Yankees
Major League Baseball yesterday handed out yet another controversial suspension over a pitcher throwing at a batter.
It all started in Tuesday night's 12-3 victory by the New York Yankees over the Texas Rangers. Early on in the game, Texas starter Vincente Padilla plunked Yankees slugger Mark Teixiera. Twice.
So, as a form of retalliation, which is commonplace in Major League Baseball, Yankees starter A.J. Burnett attempted to return the favor, by throwing a pitch that was described by Major League Baseball as "high and tight", although it did not hit the batter, Nelson Cruz. Both benches were warned, but Burnett was not thrown out of the game.
Burnett doesn't get thrown out of the game, but that didn't stop Major League Baseball from handing out a six-game suspension to Burnett (which he is appealing).
And Burnett has every reason to appeal this suspension. This suspension, plain and simple, does not make any sense whatsoever.
Padilla was the one who instigated this whole situation, by hitting Teixiera twice. Whether there was intent or not, when a pitcher hits someone twice, usually it's not a coincidence. Yet Padilla, only gets a fine (which was undisclosed by Major League Baseball), and did not recieve a suspension.
So let me get this straight. Vincente Padilla hits the same batter twice. A.J. Burnett doesn't even hit Nelson Cruz on one pitch, yet he is the one recieving the suspension?
Explain to me how that's fair.
Burnett threw a pitch that was enough to get warned, but not enough to get thrown out of a game. But, it's apparently enough to get you suspended for six games. Does that make sense to you?
Granted, Vincente Padilla is getting his own form of punishment, as he is having a very bad year for the Rangers, and it was reported yesterday that he was waived by the Rangers, but he is still on target to start on Sunday against Boston.
If Major League Baseball really wanted to be fair, Padilla would have been suspended as well. He hit a batter twice, and obviously instigated the situation, whether he intended to or not. Burnett didn't even hit Cruz. How do you know if there was even intent behind Burnett's up and in fastball? Sometimes, you have to pitch that way, maybe he felt like giving him a brush back pitch, considering he had hit a home run off of him the earlier at-bat. It may have had nothing to do with Teixiera being hit. When a batter gets hit twice, that's when you know there's got to be something on, though.
All in all, MLB really confused me with this suspension. It simply does not make sense and is illogical.