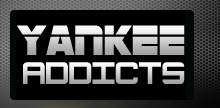 April 3, 2010 · Mike Gurnis · Jump to comments
Article Source: Bleacher Report - New York Yankees
Last October and November was a time that all Yankee fans will never forget.
The Yankees blew through the post season to their 27th world championship, and their first championship since 2000.
Just about everything seemed to go right for the Yankees last season. C.C. Sabathia lived up to the contract that he signed and A.J. Burnett stayed healthy and showed flashes of a dominant pitcher. Mark Teixiera was an MVP candidate in his first season in pinstripes, not just clubbing home runs, but by spectacular defensive play as well.
Derek Jeter proved that he can still play a solid shortstop and he can hit as well. Alex Rodriguez got the postseason monkey off of his back and silenced doubters after his off-season admission to using steroids. He bounced back after missing the first motnh of the season with a hip injury.
Jorge Posada showed no signs of age slowing him down either, and Nick Swisher was a very nice surprise in right field, playing very solid defensively and hitting almost 30 home runs.
But a new year brings a new set of doubts. Sure, the Yankees are favored by many to win the AL East again, and are considered favorites to repeat as world champions. But that doesn't mean that the Yankees are without a few question marks. Let's take a look at a few:
1. Who pitches the eighth inning for the Yankees?
This, to me is a very interesting question. Many people just assume that Joba Chamberlain will be the eighth inning-guy by default after losing the fifth starter battle to Phil Hughes. But Chamberlain needs to show that he still has that dominating 98 mph fastball that he had down the stretch in 2007, which seems to have dissapeared in the last couple of years.
Don't forget that the Yankees signed Chan Ho Park in the off-season, who could very well take the eighth inning job. Park pitched in six games this past spring, and did not allow a single earned run. Park had sparkling numbers out of the Philly bullpen last year, pitching in 38 games, striking out 52 batters in 50 innings, while allowing only 43 hits to an ERA of 2.52. Park's veteran presence on the mound could be good enough for Joe Girardi to make him the eighth inning man.
2. Is Robinson Cano ready to contribute out of the 5th spot in the lineup?
Last season, Cano had a .320 batting average, and blasted 25 home runs and 85 RBI's. Sounds good enough for Cano to move up into the fifth spot in the order, right?
Well, it's not that simple.
One thing that is vital for a hitter in the fifth spot in the order is to hit well with runners in scoring position. Last season, Cano simply could not get important hits with runners in scoring position. He batted .210, with RISP, which is a huge concern for a hitter in the fifth spot in the order. Still, Cano is too good of a hitter to continue to fail to come through with RISP, so I expect him to be able to perform well in the fifth spot.
3. Will Nick Johnson be able to stay healthy- and contribute?
In the off-season the Yankees lost their designated hitter, Hideki Matsui. Matsui's replacement this season is journeyman Nick Johnson, who's back for his second tour of duty in pinstripes.
Johnson has always been known to be an above average hitter, but has equally been known for his injuries. He's only played in over 100 games in his career a grand total of four times.
But the Yankees feel that because he won't be playing first base and is primarily here to be a designated hitter, he won't be injured as much. Still, Johnson was injured early in spring training with a stiff back, and just yesterday left a game after fouling a ball off of his knee. The Yankees expect him in the lineup on Sunday night, but it is still a question if he can stay healthy.
4. How much will Curtis Granderson's numbers improve at Yankee Stadium?
The Yankees made a big splash by acquiring Curtis Granderson, and big things are expected from the Yankees new center fielder. But to those who assume that just because Granderson hit 30 home runs last year that his power numbers will increase significantly because of the hitter-friendly Yankee Stadium, expect to be dissapointed.
Granderson only hovered right around 20 home runs in 06,07, and 08, before his power surged up to 30 last season. Many people feel that Granderson's power was kept down in Detroit, because he played in a pitcher-friendly park. I honestly can't tell you that Granderson's numbers will improve in 2010, but his .249 batting average does need to improve, and he needs to perform better against lefty pitchers.
5. Will Javier Vazquez perform better than his first season with the Yankees?
One thing that Javier Vazquez is always remembered for in his 2004 season with the Yankees was starting off with a lot of promise before crumbling in the second half, culminating in giving up a grand slam to Johnny Damon in game 7 of the ALCS.
Six years later, he's back in pinstripes, and looks like he can be a very solid fourth starter for the Yanks. Vazquez's ERA numbers have been up and down ever since he left the Yankees, but last season with Atlanta he won 15 games, and had an ERA of 2.87.
Granted, these numbers are better because of the weak-hitting National League, so I wouldn't expect that type of year from Vazquez. But one thing Vazquez is a lock to do is pitch over 200 innings, which he's done five years in a row, and nine times out of eleven seasons. He'll eat innings, and he'll strike out a lot of batters. Vazquez may not have the year he had last season, but he should have a good enough season for a #3 or #4 starter.
All in all, get ready Yankee fans. These are all important question marks, but I feel that soon enough, they won't be, and I don't feel that other than this there is much to worry about. The Yankees have a great team, and a team that without a doubt should win the AL East and make a deep postseason run again, assuming they stay healthy.
Read more New York Yankees news on BleacherReport.com