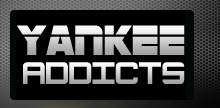 June 9, 2009 · Mike Gurnis · Jump to comments
Article Source: Bleacher Report - New York Yankees
On May 5th, the New York Yankees were "on a treadmill to oblivion" according to Yankees Radio play-by-play man John Sterling.
Through the first 26 games of the season, the Yankees were 13-13, and had just been swept for the second time in the young season, by their arch-rival Boston Red Sox, bringing their season series record versus Boston to 0-5.
Things did not look too promising for the Yankees. Two of the Yankees prized off-season acquisitions, CC Sabathia and Mark Teixiera, were not showing what they had. Sabathia had had a couple of good moments, but for the most part was ineffective through the first month. Teixiera was hovering around the Mendoza line and Alex Rodriguez was still recovering from Hip surgery.
Suddenly, in the Month of May, things started to turn around for the Yankees.
On May 8th, Alex Rodriguez made his first game appearance of the young season. And on the first pitch he saw, he instantly gave the Yankees a shot in the arm by delivering a three-run home run on his first at bat of the season. The Yankees would go on to win the game against Baltimore, 4-0 behind a complete game shutout by CC Sabathia. Suddenly, things began to look up.
Since the return of A-Rod to the Yankee lineup, the Yankees are 22-8. With his return to the lineup, now the Yankees are able to have the feared back-to-back 3 and 4 hitters in Teixiera and A-Rod. With A-rod's return, Teixiera's Batting average has suddenly jumped up to .286, and now leads the American League in Home runs with 18, and is a leading vote-getter for the All-Star Game.
With all of this being said, there is no reason to believe that the Yankees won't go into Boston and take at least two out of three from the Red Sox, and extend their one-game lead in the AL East.
Boston has struggled over the last month, posting a 15-13 record since the same day that A-Rod returned to the Yankees lineup. Not to mention, their big-time slugger David Ortiz looks like he's at the end of his career, posting a .197 batting average so far this season and only two home runs, causing him to be dropped in the order. Needless to say, Big Papi is not even a shell of his former self.
Their captain, Jason Varitek, is struggling as well, with a .247 batting average so far this season.
But Boston's struggling hitters is not their only problem.
Their Starting pitching, which was supposed to be a major strength, has been mediocre at best. Jon Lester, their golden boy pitcher, has struggled with a 5.09 ERA this year. Brad Penny, their off-season acquisition, has simply not gotten the job done, posting a 5.85 ERA this year.
And we haven't even gotten to Dice-K yet.
Matsuzaka has battled through injuries this year, but has a rotation-worst 7.11 ERA with a 1-4 record this season. You can criticize the Yankees all you want for giving CC Sabathia a $161 million contract, but don't forget that the Red Sox spent $50 million just to negotiate with Matsuzaka a few years ago(of course the Yankees spent $30 mil on Kei Igawa, and he's in the Minor leagues).
All in all, these are two teams who are playing at different levels from the last time they faced each other on May 5th. The Red Sox have struggled since then, while the Yankees have risen dramatically, and are starting to look like the team they were supposed to be.
Just a look at the pitching matchups for the three games, it seems like it plays into the Yankees favor.
Game 1—A.J. Burnett (4-2, 4.69 ERA) vs. Josh Beckett (6-2, 4.09 ERA)
Although Burnett blew a six-run lead the last time he faced the Sox at Fenway, he does have good career marks against Boston, posting a 5-0, 3.52 ERA lifetime against Boston. Even though Beckett is 1-0 vs the Yankees this year, he has a 9.00 ERA against them this year.
Game 2—Chien-Ming Wang (0-3, 14.46 ERA) vs. Tim Wakefield (7-3, 4.50 ERA)
One glance at Chien-Ming Wang's stats, and you automatically think Boston will destroy him in this game, right? Don't forget that Wang's first start since coming off the DL last Thursday was the first time he had thrown a lot of pitches in a couple of weeks, since he had been in the Bullpen and hadn't really thrown more than three or four innings out of the bullpen. For the first three innings, Wang looked like vintage Wang, he cruised, and suddenly in the 4th and 5th he just lost it. So you can blame that on not being stretched out. As for Wakefield, in recent Years the Yankees haven't had much trouble with him. In fact, over Wakefield's career he has a 10-17 record with a 5.03 ERA against the Yankees.
Game 3—CC Sabathia (5-3, 3.56 ERA) vs. Brad Penny (5-2, 5.85 ERA)
Both pitchers make their first starts of the season versus the opposition. Over his career, Sabathia is 2-4 with a 3.91 ERA against Boston, which mean's hes done okay. Brad Penny, on the other hand, to top off his struggles, he has a 3-1 record with an ERA over 6 at Fenway park this season.