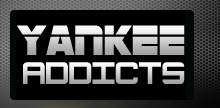 News published by
June 9, 2009
The New York Yankees should almost be synonymous with "early-season struggles" these days. Their combined record in April since 2006 stands at 48-49, not a stellar figure for a team ...
April 27, 2009
In a weekend packed with excitement and thrills for New England sports, Jacoby Ellsbury made one play that supplanted the rest as the most memorable. There are several things that can ...
April 25, 2009
Friday night's opener of the Red Sox-Yankees season series could not have gone better for Red Sox Nation. For the first time ever, the Red Sox defeated the Yankees by ...
April 23, 2009
The time has arrived for Boston Red Sox fans, New York Yankee fans, and fans of baseball in between to witness the greatest rivalry in sports take the stage ...