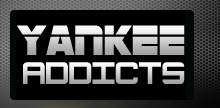 April 23, 2009 · Matt Dolloff · Jump to comments
Article Source: Bleacher Report - New York Yankees
The time has arrived for Boston Red Sox fans, New York Yankee fans, and fans of baseball in between to witness the greatest rivalry in sports take the stage once again. A Red Sox-Yankees series is always major news across baseball, and in some ways across all sports.
They tend to take on a life energy that just about any other series in baseball fails to measure up to. It could largely be a byproduct of the incredible atmosphere created by the fans, regardless of which park they're playing in.
It could be the immense amount of tradition and history behind both teams that envelops the players and inspires a far greater level of passion than normally seen.
Whatever it is, Red Sox-Yankees games are always something to behold.
Despite the epic nature of this three-game weekend series between the Sox and Yanks at Fenway, we all need be reminded that it is just the first series. They will play each other 19 times throughout the season, but the anticipation builds toward no other regular season series like this one.
There are some significant questions that will be answered as the series plays out, and it is my job to ask them.
1. Which Joba Chamberlain will we see this Friday?
It's a fair question, because in Chamberlain's first two starts this season, the Yankees have gotten Jekyll in one and Hyde in the other. In his first start Apr. 12 at Kansas City, Chamberlain allowed three runs, one earned, on four hits and just one walk in six solid innings. The Yankees' bullpen eventually blew the lead and the game for him.
Chamberlain almost lost the game on his own the next time out, struggling severely with his command against Cleveland. He walked five batters in just 4.2 innings while allowing five runs in a game the Yankees eventually won 6-5.
In his only start at Fenway last season, Chamberlain shut the Red Sox down with seven shutout innings while scattering four baserunners. He will need to bring his A-game Friday with Jon Lester taking the mound for the Red Sox, but he has proved able to do it in the past.
2. Can the Yankees bring their 2009 power surge from Yankee Stadium out to Boston?
Balls are flying left and right—mostly right—out of the new Yankee Stadium, which Buster Olney is calling a "wind tunnel." It seems legitimately likely that all Yankees starters could achieve career highs in home runs this season.
Derek Jeter already has four after averaging 12 the past three seasons. Two of Mark Teixeira's six hits at Yankee Stadium so far this season have left the park. In all, 26 home runs have been launched out of Yankee Stadium in the first six games, a new major league record.
The Yankees are reportedly monitoring the issue, whatever that means. Although Fenway is still a hitter's park, it's unlikely the Yankees will be able to rely on having this much power—and apparently, that much help from the park—to win games.
3. Is the disparity between the two bullpens as great as it looks thus far?
The Yankees have gotten some decent performances thus far from a couple relievers, and Mariano Rivera, as usual, has been excellent (7 IP, 0 ER, four saves). But for the most part, the Yankee bullpen has been nothing short of disastrous.
Take Rivera out of the equation and Yankees relievers own an ugly 6.89 ERA, and that includes the scoreless inning thrown by first baseman Nick Swisher. Jonathan Albaladejo and Brian Bruney have been respectable as setup men, but Phil Coke, Jose Veras, and Damaso Marte, among others, have pitched like bums.
The Red Sox bullpen, on the other hand, currently boasts a 2.25 ERA, tops in the majors. Jonathan Papelbon, Ramon Ramirez, and Manny Delcarmen have combined to allow just one earned run in 24 innings. So far, they are living up to their billing as one of the strongest and deepest relief corps in the game.
If the difference in performance between the two bullpens continues to be as big as it has been, it could be the difference in all three games.
4. Which struggling No. 3 hitter will perform better: David Ortiz or Mark Teixeira?
Both are off to slow overall starts, Teixeira falling in line with his career history and Ortiz continuing to concern Red Sox fans about his wrist. Both have woken up in recent games and will be major factors for each of their team's respective lineups in the series, as always.
The 33-year-old Ortiz has yet to hit a home run this season but is 5-for-12 with four extra-base hits and four RBI in his last three games. He is also starting to drive the ball consistently well to the opposite field, a very encouraging sign for Red Sox fans.
Teixeira doesn't have the same kind of injury and age-related baggage on which Ortiz's slow start can be easily blamed, but he has a history of starting slow and catching fire in the second half. Though he's done little to raise his batting average, he has five straight games with at least one RBI.
The concern level should certainly be higher for Ortiz, but Teixeira's slow start will not be tolerated by Yankee fans for too long. Both will be counted on in this series and beyond; whoever outperforms the other will soon be answered.
5. How will the Red Sox perform facing three quality starting pitchers?
Despite hammering James Shields, who always stinks at Fenway, on opening day, the Red Sox have not fared well thus far against premium starting pitching. Scott Kazmir and Matt Garza combined to allow just two earned runs in 13 innings in that opening series, and then the Sox were stymied by Jered Weaver when they went to Anaheim.
They've proven in their current seven-game winning streak that they can beat the Baltimore Orioles, but who believes they shouldn't? An encouraging sign is that the previously struggling Ortiz, Dustin Pedroia, and Jacoby Ellsbury are starting to pick it up, and they hammered Scott Baker and Francisco Liriano in yesterday's doubleheader.
This will be the first series where they will conceivably face three quality starters in a row. The series could still come down to the bullpens, but if Chamberlain, A.J. Burnett, and Andy Pettitte deliver for their team, that will leave a lot of pressure on the shoulders of the Red Sox starters, especially Justin Masterson, who will be in the spotlight Sunday night against the veteran Pettitte.
There will be pressure on the Red Sox to continue their recent surge, and they will be pressured to do it against a much better team than what they've faced.