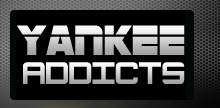 April 25, 2009 · Matt Dolloff · Jump to comments
Article Source: Bleacher Report - New York Yankees
Friday night's opener of the Red Sox-Yankees season series could not have gone better for Red Sox Nation. For the first time ever, the Red Sox defeated the Yankees by tying the game with a home run in the ninth inning, then winning with a walk-off home run extra innings.
Kevin Youkilis went deep off Damaso Marte in the bottom of the 11th, launching the ball over the green monster seats and out of Fenway Park. Jason Bay hit the game-tying home run to center field off Mariano Rivera, who blew his first save of the season.
Ramon Ramirez (2-0) pitched a scoreless 11th inning to earn the win, and has yet to allow an earned run in 10 1/3 innings. In five innings, the Red Sox bullpen allowed two earned runs, both off Hideki Okajima in the seventh.
Jon Lester turned in his second straight quality start, allowing two earned runs in six innings, throwing 114 pitches. Lester struck out seven, allowed seven hits, and walked three in the no-decision.
For the Yankees, Joba Chamberlain pitched 5 1/3 shaky innings, allowing nine hits and four walks, but inducing four inning-ending double plays to exit the game with the lead. Chamberlain threw 91 pitches and struck out two.
Every Yankees starter had at least one hit, including two each for Derek Jeter, Johnny Damon and Mark Teixeira.
The Red Sox and Yankees will square off again at 4:10 p.m. this afternoon, with Josh Beckett opposing A.J. Burnett. Justin Masterson will oppose Andy Pettite in the Sunday night finale.