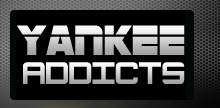 June 9, 2009 · Matt Dolloff · Jump to comments
Article Source: Bleacher Report - New York Yankees
The New York Yankees should almost be synonymous with "early-season struggles" these days. Their combined record in April since 2006 stands at 48-49, not a stellar figure for a team with as consistently deep a roster and high a payroll as them.
The Yankees' 12-10 April record this season doesn't look bad on the surface, but that included a three-game winning streak to close out the month. A three-game sweep at Fenway Park at the hands of the Boston Red Sox left them at 9-9 and looking for scapegoats.
But the Yankees are 25-14 since the last game of that series, and they come into Fenway tonight in first place by one game and having won their last four series.
It's not too much of a coincidence that the Yankees reversed their fortunes around the same time Alex Rodriguez returned from his hip injury. His presence in the lineup alone has proved to be a big help for Mark Teixeira, who hit 13 home runs in May after hitting just three in April, and leads the league with 18 bombs.
Perhaps more importantly for the Yankees is their pitching has stabilized. CC Sabathia is 4-0 with a 3.26 ERA in his last six starts, one of which was a complete-game shutout at Baltimore on May 8. His presence at the top of the rotation is essential to the Yankee's success, and he looks to have found himself after a rough April.
A.J. Burnett, Joba Chamberlain, and Andy Pettitte have also delivered quality outings in recent weeks.
Despite the Yankees' correction of early-season struggles, the Red Sox also appear to have turned a corner at the top of their rotation. Josh Beckett, who takes the mound for the Red Sox tonight, has been dominant since allowing seven runs against the Rays on Apr. 30.
Beckett is 4-0 in his last six starts with a 1.94 ERA. He has thrown over 110 pitches in each of his last five, but has shown no signs of wear or fatigue. His last start, in fact, was his most dominant of the season, as he took a no-hit bid into the seventh inning and ended up allowing two hits and two walks in seven-and-two-thirds innings.
Jon Lester also appears to be turning the corner after a wild start to his season. In his last two starts, Lester is 2-0 and has allowed two runs in 15 innings with 23 strikeouts. He made a bid for his second no-hitter in as many years last time out against Texas, but had to settle for the complete-game victory.
Though these two teams are not without their flaws, they seem to be correcting the major problems that plagued them in April and May, which is the main reason for their places at the top of the American League East standings. While the Blue Jays have fallen back to Earth and the Rays continue to underachieve, the Red Sox and Yankees continue to win games and build momentum for their legendary rivalry to take the stage once again.
Tonight's series opener, which pits Beckett against Burnett, will obviously depend on the performance of the pitchers. To say the two struggled the last time they faced each other would be an understatement; they combined to allow 16 earned runs in 10 innings, in a game the Red Sox eventually won, 16-11.
Considering how much better Burnett and Beckett have been in recent starts, it's reasonable to assume a slobberknocker like that Apr. 25 game would not happen again. It seems more likely that tonight's game would either be lopsided or a pitcher's duel.
We wanted it last time and didn't get it, so let's hope we get the duel this time.