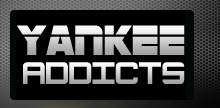 April 27, 2009 · Matt Dolloff · Jump to comments
Article Source: Bleacher Report - New York Yankees
In a weekend packed with excitement and thrills for New England sports, Jacoby Ellsbury made one play that supplanted the rest as the most memorable.
There are several things that can be highlighted about the Boston Red Sox's three-game sweep of the New York Yankees in the first meeting of the season between the two teams. The finale alone is full of notables and things to mention.
It could be the 10th straight win for the Red Sox. It could be that they swept not just the Yankees, but the entire nine-game homestand including a double-header sweep against the Minnesota Twins.
It could be that the Red Sox got 5 1/3 strong innings out of starter Justin Masterson, and more sparkling bullpen work including 2 2/3 perfect innings out of farmhands Michael Bowden and Hunter Jones.
But the one thing that stood out above all these was a single stolen base. To be more specific, it was a steal of home plate. Ellsbury stood on third and stared down Andy Pettite, and suddenly lost all sense of apprehension within himself.
For the first time since high school, he attempted to steal home and he made it safely and relatively comfortably.
Ellsbury's play was the first straight steal of home—that is, a steal of home without any other play involved—since B.J. Upton did it against Kelvim Escobar and the Los Angeles Angels on Sept. 17, 2007.
David Ortiz also drove in a run with his sixth double of the season just before Ellsbury's steal. J.D. Drew followed the steal with an RBI double of his own.
The Red Sox won the first game, 5-4, on a Kevin Youkilis walk-off home run in the 11th inning. They also won the wild middle game, 16-11, on the strength of a go-ahead home run by Mike Lowell and a grand slam by Jason Varitek.
The weekend for New England sports also included the Celtics and Chicago Bulls, who battled to a 121-118 double-overtime victory for Chicago. The game saw 28 lead changes and several late game-changing shots.
Also, not to be forgotten in this week's madness was the New England Patriots, who partook in the 2009 NFL Draft. The Pats traded out of the first round and acquired extra picks for this year and next year.
Their most intriguing draft acquisitions included safety Patrick Chung, cornerback Darius Butler, and wide receiver Brandon Tate.
If you missed Ellsbury's steal or just haven't seen it by now, here's a clip: