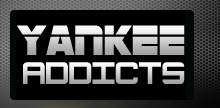 News published by
February 3, 2011
"Dear fellow Yankee fan, Man up. It's Andy Pettitte after a loss. He's going to be completely out of gas, and find a way to hold them to two runs anyway."   Now ...
November 4, 2009
I've learned that the New York Yankees spoiled me at an early age. I was just shy of 11 years old when I saw the Yankees win their 26th World Series ...
October 29, 2009
It was pitted as the battle of the former Indians aces and they did not disappoint. CC Sabathia was "off his game" Wednesday night going seven innings and giving up four ...
October 26, 2009
"...hope is a good thing, maybe the best of things, and no good thing ever dies."- Andy Dufresne (The Shawshank Redemption) I'd be lying if I told you I expected this. Throwing ...
July 27, 2009
While I was watching William Hurt fall for a young woman working at a school for the deaf in "Children of a Lesser God," Chicago White Sox starting pitcher Mark ...
June 11, 2009
About two months, a man going by the name Barnz from Fayettesville, Arkansas sent an email to ESPN writer Bill Simmons about an encounter with Academy Award winning Actor Morgan ...
June 4, 2009
It happened...June 3 after striking out with one on in the eighth inning against the Texas Rangers, Alex Rodriguez was booed by the Yankee faithful. Leading up to these events that ...
June 1, 2009
It's been a few weeks now, but after completing finals, getting sick, and fatigue from a diet I now finally feel like writing again. How convenient that it is Jun. 1, ...
May 1, 2009
It's been a bizarre start to the 2009 season for the New York Yankees. Nick Swisher came in to pitch against the Rays, Andy Pettitte allowed a straight steal of home ...