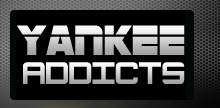 June 1, 2009 · Matt Cullen · Jump to comments
Article Source: Bleacher Report - New York Yankees
It's been a few weeks now, but after completing finals, getting sick, and fatigue from a diet I now finally feel like writing again.
How convenient that it is Jun. 1, meaning that the New York Yankees have completed another month of Baseball.
The final day of the month ended in walk-off fashion on Cleveland, but overall it was an improvement over May. The Yankees went 17-11 for the month, placing them in first place in the AL East by half a game.
Who carried them there and who would like to put the month behind them.
The Memorable
1. CC Sabathia—After a sluggish start, CC got hot in a hurry.
Four-1 with an ERA of 2.56 with opponents batting .204 against and 37 strikeouts. The 37 strikeouts is one shy of doubling his total for April.
It's safe to say that this is the CC that the Bronx was looking for.
2. Alex Rodriguez—He's back!
And even though he had to shake off the rust and is only hitting .260, his mere presence has helped the lineup a lot. (Mark Teixeira in particular.)
He also has hit seven home runs, two big ones in the ninth inning that tied a game against the Phillies, and won a game against the Twins.
3. Mark Teixeira—Yep, the notoriously slow starter at the plate has indeed sped up to say the least. Teixeira hit .324 on the month with 12 home runs and 30 RBI.
His average raised to .281 on the season and his RBI total tripled what it was in the month of April.
4. Melky Cabrera—Quickly becoming my favorite Yankee, Melky didn't take his foot off the pedal after a hot start and regaining a spot in the starting lineup. Only one home run, but he still hit .321 on the month and provided several instances of ninth inning of heroics.
Yankees fans are loving the comeback years from both himself and Robinson Cano.
The Forgettable
1. Andy Pettitte—Gets some slack for overachieving in April while the rest of the rotation was down, regardless April was a shaky month for Pettitte.
He did go 3-0, but with an ERA of 4.95 and only one quality start out of six.
2. Nick Swisher—By all accounts a great guy in the clubhouse, however, Nick Swisher in one month has gone from arguably being the Yankees best hitter to merely plugging in a whole in RF.
The Yankees faithful awaits Xavier Nady to return from the DL.
3. Hideki Matsui—Three of his last five games he had multiple hits, but unless there are drastic improvements one would think that Hideki Matsui is playing his final season in pinstripes.
The DH hit just .241 on the month, dropping his average to .263 on the season.
Outlook for the Remainder of the Season
Hold your breathe, it's looking like Chien Ming Wang may be returning to his old form.
Velocity up a little and his sinker is looking much better than it did prior to his DL stint. Phil Hughes has looked mostly solid as well since being brought up, even pitching eight shutout innings in his most recent start against the Texas Rangers.
The lineup should continue to remain strong. Derek Jeter's batting average is above .300 again, Mark Teixeira's as well as A-Rod's batting average should continue to climb, and there is no reason to believe that the likes of Robinson Cano and Johnny Damon cannot keep up their pace.
Bullpen is still iffy especially considering the amount of innings they had to eat early, but, considering my extremely pessimistic nature, I feel pretty good about this team.
The Toronto Blue Jays continue to fall in the standings after a hot start, the Rays continue to underachieve, the Orioles continue to be mediocre, and the artist formally known as David Ortiz remains in the Boston Red Sox lineup.
Get ready for June!