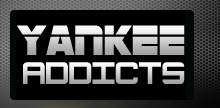 June 11, 2009 · Matt Cullen · Jump to comments
Article Source: Bleacher Report - New York Yankees
About two months, a man going by the name Barnz from Fayettesville, Arkansas sent an email to ESPN writer Bill Simmons about an encounter with Academy Award winning Actor Morgan Freeman. Freeman had just opened up a restaurant in the area called 'Pig 'N Whistle BBQ'.
When he met Freeman, instead of asking for an autograph he asked him to record a message for him on his voicemail.
Freeman obliged and the message goes like this, "This is actor Morgan Freeman, Barnz is away from his phone right now but leave a message and he will call you back, I hope … I hope."
Whether it's true or not, it's an absolutely awesome story and a brilliant idea. I'm not sure Morgan Freeman can be topped but it's the voicemail idea is something I will try to remember in any future instances where I happen upon a celebrity.
It also got me thinking, who in sports could leave the best messages on someone's phone. Just how would they sound?
Here's my list of what I think would be the ten best. Feel free to comment if you think I missed anyone or if this slideshow was a total waste of time and you need to vent.