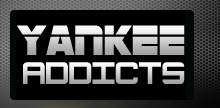 June 4, 2009 · Matt Cullen · Jump to comments
Article Source: Bleacher Report - New York Yankees
It happened…June 3 after striking out with one on in the eighth inning against the Texas Rangers, Alex Rodriguez was booed by the Yankee faithful.
Leading up to these events that night, Alex Rodriguez hit an RBI single in the first inning of that game to bring the deficit to within two, but also hit into an inning-ending double play in the third with the bases loaded and struck out with a man on third in the sixth.
I've made it known it known in the past that I am not exactly the president of the Alex Rodriguez fan club…Nor am I up for election. In fact, on February 23 I wrote an article slamming the man for his seemingly rubbish-filled press conference in Tampa about his steroid use.
I also mentioned all of the players around the league that have lined up to take shot at the man over the years and the teammates who by all indication do not like him either. I pledged to stop defending the unlikable liar.
Changed have occurred since Alex Rodriguez made his season debut May 8th at Camden Yards after having surgery to remove a cyst on his hip.
Obviously the lineup is better with him than with Cody Ransom/Ramiro Pena. Not solely his production even. Mark Teixeira's batting average has gone up 81 point since Alex came back.
Based on history he was bound to start hitting anyway but it certainly helps to hit in front of a three time MVP and see better pitches to hit, not to mention that a lightning rod like Alex Rodriguez can take pressure off of someone's back.
His numbers coming off the injury themselves are not overwhelming, but he does have seven home runs and is hitting .277 with RISP (27 points higher than his total batting average).
He's had very big ninth inning hits, a walk-off home run against Minnesota and a game tying home run against Philadelphia. The New York Yankees would go on to win the game against Philadelphia.
The New York Yankees record before his return: 13-15, good enough for fourth place in the division.
The New York Yankees record now: 31-22, tied for first now with the Boston Red Sox after their most recent win. The Yankees have had at least a share of first place since May 27.
Does anyone remember the last time things clicked for the Yankees this early in the season? It feels like 1999, it's been awhile.
A-Rod certainly deserves some credit for this, as does CC for now pitching like an ace, as Robinson Cano and Melky Cabrera for their comeback years, and also Johnny Damon's agelessness.
Another reason why I have warmed up to A-Rod slightly is the change in the clubhouse, the most together and happy-go-lucky in what feels like awhile. Newcomers Nick Swisher, CC Sabathia and AJ Burnett deserve much of the credit there.
What I have also noticed is a different A-Rod that has come with this.
I saw him and Melky Cabrera run to catch Johnny Damon's helmet as he crossed the plate after hitting a walk-off home run against Minnesota. I see him joking with teammates frequently, and I see him at the Magic/Cavaliers Game Five sitting with Mariano Rivera.
Anyone remember the last time they saw him off the field with a teammate? That also feels like awhile.
It's too early to say, but this has the makings of a potentially magical for the New York Yankees.
So why are we booing the star player for one bad game? I think booing is stupid to begin with but that's for another argument, why the 180 so quickly? Does it seem wise to begin with to boo someone so talented on your team but so mentally fragile? And for a game in June?
And I always thought we were frustrated at the consistency of Alex Rodriguez to come up small in the playoffs.
Like I said, I think booing is stupid but I've come to accept it and know that it's not going anywhere. However, the timing does not appear to be any stranger. And for those moments that A-Rod was walking off the field to a chorus of boos, I was embarrassed.
Here's hoping for a strong game for Rodriguez and the rest of the club today.
That is all.