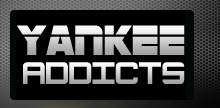 May 1, 2009 · Matt Cullen · Jump to comments
Article Source: Bleacher Report - New York Yankees
It's been a bizarre start to the 2009 season for the New York Yankees.
Nick Swisher came in to pitch against the Rays, Andy Pettitte allowed a straight steal of home in the series finale against Boston, Chien-Ming Wang has an ERA of 34.50 in three starts but doesn't have the teams highest ERA, the ball is really flying out of the new Yankee Stadium, and in the second week of the season they were outscored 60-35 and won four of the seven games!
At the end of the month they stand at 12-10, good enough for 3rd place and two games behind the Red Sox and Blue Jays in the AL East. Here was are the memorable and forgettable portions of the first month in New York Yankees baseball.
The Memorable
Robinson Cano- A few seasons removed from a year in which he nearly won the AL batting crown. Robinson Cano is off to a ridiculous start. At the end of the month, he is hitting .366 with five home runs and 16 RBI. He currently has a 17 game hitting streak and has hit safely in all but one game. He also has had only one error so far.
Melky Cabrera- Had a disappointing 2008 campaign even being sent down to the minors near the end of the year and started the 2009 season on the bench. Melky Cabrera is back in the lineup andso far has rebounded well from 2008 hitting .327 with four home runs already and playing solid defense in limited playing time.
Nick Swisher- The new Yankee has been a positive source of energy in the clubhouse and has had a terrific statistical season. Swisher struggled for about a week and half but at the end of the month he is hitting .312 with seven home runs and 19 RBI. Swisher, entering his sixth year in the league, has displayed the ability to hit for power before but his highest batting average prior was just .262. And to top it off, the guy has FILTHY stuff on the mound…Ok perhaps not but the strikeout on Gabe Kapler in the first game at Tampa was pretty funny.
Andy Pettitte- Who would have thought Andy Pettitte would have been carrying the rotation? After four starts he is 2-1 with an ERA of 2.96. The last time Pettitte's ERA was even under four was in 2005 when the Houston Astros were in the World Series.
Phil Hughes- He has only made one start, but if his six inning shutout against Detroit is any indication of how he will fare this season it is a HUGE boost to a Yankees staff that has been chased from games early and often.
The Forgettable
Big offseason acquisitions (CC Sabathia, A.J. Burnett, and Mark Teixeira)-So far it is safe to say that the Yankees are not getting their moneys worth out of the combined 423.5 million that CC Sabathia, AJ Burnett, and Mark Teixeira are getting. While it's nice to see a power hitter at first base that actually can play the position, Mark Teixeira is currently hitting .200. CC Sabathia has done better since his rocky opening day start in Baltimore but he is still sitting at 1-2 with an ERA of 4.73. AJ Burnett on the other hand, started well winning his first two starts and carrying a no-hitter into the seventh inning in the second start. However he has given up 12 runs in his last nine innings pitched including blowing a six run lead at Fenway.
Brett Gardner-While Melky Cabrera has hit well in taking the starting spot in CF, it helped that Brett Gardner was ice cold with the bat. He does have five SBs, but he also is hitting .220 with an OBP of .254 and very little power potential.
Chien-Ming Wang-Saying he has been horrible just is not justice, if I didn't know any better I would think that A-Rod had been tipping off pitches to opposing hitters. Wang is 0-3 with an ERA of 34.50. He has made it through two innings just once and never through four innings. (He does have three scoreless innings though.) Hopefully for Yankees fans he turns this thing around and finishes with an ERA under five for the season.
Bullpen- You know it's bad when Mondays 4-2 loss to Detroit was seen as a moral victory to me because CC was able to go the complete game and save the bullpen for a day. At the rate of innings being pitched, by June a 20 run lead may not feel safe. Aside from Rivera, Brian Bruney and Phil Coke are the only relievers that have even been decent and Bruney is on the DL. Jose Veras, Edwar Ramirez, Jonathan Albaladejo, and Damaso Marte all have ERAs over 5.50 and Marte's is over 15.00. They get somewhat of a pass because many starts have not gone deep into games but the bullpen is certainly shaky to say the least.
The Phantom at Third Base- Big shocker, the New York Yankees miss A-Rod's bat in the lineup. Cody Ransom was hitting .180 before going on the disabled list, Ramiro Pena raised his average to .269 today and got his first two RBI of the season on a double in the eighth inning. The two of them have combined for eight RBI and not one home run.
Outlook for the remainder of the season
Cannot stress enough how much the Yankees need Phil Hughes to be effective. Obviously A-Rod's return will improve the lineup, Mark Teixeira should hit nowhere near .200 when it's all said and done and will get better production from CC Sabathia ad AJ Burnett as the season progresses.
If Wang can come back and be effective, and they are able to move Joba back to the bullpen, I'll feel really good. It's hard to believe that the Yankees are 12-10 with all of the things gone wrong.
The bullpen will be a question mark in the middle innings though, even with a Joba return, because of the amount of innings they have already worked. Also the lineup needs to do better with RISP.
Again though, if you were to tell me before the year all of the things that have gone wrong and we would still be two games over .500…I'd feel ok with that. So for now, this Yankees fan is still feeling just fine. Though hopefully the month of May is kinder to the Yankees.