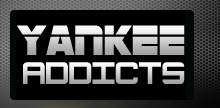 News published by
June 3, 2010
Since the Jeet man is chasing Gehrig's sacred numbers I thought I would compare the two...something Jeter himself would never admit doing. They both had the basic same legnth careers, G-man ...
November 5, 2009
So they made it. The Yankees, World Series Champs. The crazy part of this is that they made it with half of their cylinders firing, sputtering across the line. They barely made ...
October 12, 2009
So, at the beginning of this season I wrote that the Yanks had a shot. All the Bawston guys were yelling through their keyboards at me. Hmmm. Turns out I ...
July 29, 2009
And around and around it goes. Chien Ming Wang is done for the year and is it the Yankees fault? Possibly. ESPN had video of his mechanical issues on a split ...
July 15, 2009
The Yankees need to rummage in their closet and find what does not fit in their life anymore and eject it...that old pair of shoes...that worn out coat... And ...
July 9, 2009
Dumb Move No. 1 There is something going on during this years base ball season with the Yankees that I have not seen since 1996. New blood. Kids from the farms ...
May 21, 2009
This is almost a follow up article. When I say almost, I say it because I wrote about confidence in my last one. It seemed that they were lacking in ...
May 7, 2009
Watching this early season I see the newest Joe in town doing some strange things. Who is behind these moves? Joe has done a horrible job of managing his bullpen ...