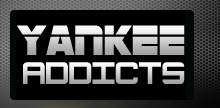 May 21, 2009 · Jackson Riffe · Jump to comments
Article Source: Bleacher Report - New York Yankees
This is almost a follow up article. When I say almost, I say it because I wrote about confidence in my last one. It seemed that they were lacking in this department. Girardi finally let loose his Old Joe Torre stoic crap and became one of the guys like he used to be. He played with Jeter, Posada, and Mo.
The change in their clubhouse is showing on the field in a boost of confidence. Nick Swisher said it simply, "I think fun creates winning, while some people think winning creates fun. Either way you look at it, fun is a good thing. Obviously, so is winning. Coming here, there's no other option." -Daily News
Read more: http://www.nydailynews.com/sports/baseball/yankees/2009/05/20/2009-05-20_yankees_hit_three_homers_clobber_orioles_114_at_stadium.html#ixzz0GAGnkxPS&B
Swisher took the words right out of my mouth.
The Yanks also dumped Edwar Ramierez back to the minors and should of sent Jose Veras with him. The two along with Albaladejo are iffy relievers who can lose the strike zone at any time.
The entire reason for a relief pitcher is to get a fresh arm who can throw strikes with some zip on it. Also, a relief pitcher should have a different delivery than the pitcher before him thereby throwing off the batters timing. But they have to do like any pitcher does and not throw meatballs while still throwing strikes.
These failing pitchers can not backtrack their way back to their fastball to get a strike without telegraphing it. They are also throwing curves which is a very dangerous reliever pitch in a hold situation. Hanging a curve ball is giving a home run on a plate. In short they are failing miserably and they need maybe to have some fun as well. I have never seen Veras smile. They always look wooden and nervous.
The Yanks should bring up Zachary B. Kroenke who is in Triple-A Scranton. Mr.Kroenke is a reliever with 1.02 ERA in 17 innings. He also has a lot of walks. Veras has one more walk than he does with one less inning pitched. Kroenke has one more walk than Albaladejo with one inning less pitched.
The difference here is :
Mr.Kroenke seems not to let people score. He might be worth a shot. Aceves gives up hits like Pettitte. He gives up hits but stays out of big trouble. Is Kroenke that kind of guy? We wont know until they try. You never know the big stage might do for him. Look at Cervelli. He is a Nebraska kid like Joba and has been pretty impressive in his career thus far. Better than the others.