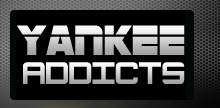 May 7, 2009 · Jackson Riffe · Jump to comments
Article Source: Bleacher Report - New York Yankees
Watching this early season I see the newest Joe in town doing some strange things. Who is behind these moves? Joe has done a horrible job of managing his bullpen by leaving clearly floundering pitchers in bad situations for long enough to blow a few games now.
That takes the wind out of the sails for hitters but Girardi could not know that because he was a horrible hitter and has no clues for guys in slumps because he never got out of his career long slump. But beyond that who makes these other moves?
Aceves FINALLY came up after pitchers who have done nothing but fail at this level.
Aceves pitched well the other day and last year. He looked unflustered and confidant on the mound. The team also has some guys down there in the minors who have not gotten a shot yet….some excel at higher levels and languish @ triple A like it is purgatory.
You wont know until you bring em up Mr. Joe.
Wilkin De La Rosa
Michael Dunn
Christian Garcia

Eric Hacker

These are four relief pitchers…..two of them lefties, who sit down in the minors. How much worse can they be from Jose Veras? None.

Jose Veras needs to be cut loose or whatever they have to do with him, whatever it is that they do do with him ( and the do do should be spelled DOO DOO) it should have nothing to do with throwing a baseball.

He is not consistent in any way and looks unconcerned while he gives up dingers to whomever he throws flat-line fastballs at. He doesn't seem to be a competitor in that sense….not on that level…he seems over matched and outclassed.

Girardi should see this. Maybe he needs to take his cool guy sunglasses off….and look at it and then look at Dave Eiland the pitching coach from the minor leagues and maybe realize that is his level of coaching-AAA….He has yet to coach a player at MLB level and improve them at all.

He has yet to promote a starter or reliever from AAA and have them function. Joba was fast-tracked and got obviously little assistance from Eiland until he started to become inconsistent maybe. They seem to have no inner grit somehow.

The game is not just mechanics. I know from playing stickball as a kid that the game is won with determination and grit and confidence more than anything else. A rally is a surge in confidence.

Not just lucky hitting. Some people are born for a big stage. Some have to be reminded why they are on that stage…some people fall apart on the stage and you have to put them together. Confidence is everything. Confidence brings focus.

I see Edwar Ramirez looking lost as a puppy out there, and even Joba…and Mr. Wang had mechanical problems that I saw on an ESPN split screen that showed him clearly not getting his left leg up or back straight before he went into his delivery therefore throwing a slower non sinking sinker, the other side of the split was right next to him pitching a year ago with huge BIG DIFFERENCE in his entire stance, kick higher, back arched a bit, mitt to his ribcage…but Eiland missed them somehow…Girardi missed it…Cashman missed it…THEY NEED A PITCHING COACH WHO CAN COACH AT THE MAJOR LEAGUE LEVEL.

They has an analysis on ESPN before he was put on the DL by the YANKEES.Something is wrong in Yankee pitcherland. When a trend becomes evident there is a need for a change of some sort…There seems to be a lack in direction…like that strength coach who got everyone injured back when…

There seems to be talent there but is not consistent. They need to work that out. It is killing the confidence of the hitters. The team is suffering from a disease of bad pitching. It has been a problem for years.