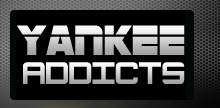 News published by
July 2, 2009
The 2009 Seattle Mariners seem to have quite the knack for pulling out improbable wins. They've already done it twice in this road trip—first, in LA when we sent Garrett ...
May 25, 2009
The 90's were an interesting decade for Major League Baseball. They saw a player strike cut a season short, they saw the New York Yankees dominate.... a lot, and they ...
April 29, 2009
The Oakland Athletics were a fairly forgettable team in 2008, and until their young pitching staff progresses a little bit, I anticipate them staying that way for a couple more ...
April 27, 2009
Over the next month or so, I'm going to break down a different MLB team each day, and make a bold prediction as to what they're looking at, position wise, ...
April 26, 2009
There's already a lot of speculation going on about who is going to the playoffs in 2009. As usual, a lot of teams are off to surprisingly good starts. Some of ...