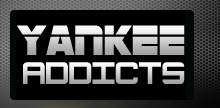 May 25, 2009 · Griffin Cooper · Jump to comments
Article Source: Bleacher Report - New York Yankees
The 90's were an interesting decade for Major League Baseball. They saw a player strike cut a season short, they saw the New York Yankees dominate…. a lot, and they saw some incredible ball players.
We're in the year 2009 now, and most players from the 90's are rarely even spoken of anymore – not all of them though. The best of them have stood the test of time, and my generation now looks back at them fondly as the players we watched when we were little kids.
Others may simply look back at them as great players, the best of their era. Either way, anyone who got to see them play should be able to think back and recognize the truly great ones, and that's one I'm going to attempt to do.
These are, the way I see it at least, the best players of the 1990's (by position).
Please keep in mind, that all of this is subject to opinion, so feel free to let me know what you think, and which players you would have chosen.
Enjoy.