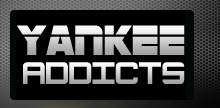 April 29, 2009 · Griffin Cooper · Jump to comments
Article Source: Bleacher Report - New York Yankees
The Oakland Athletics were a fairly forgettable team in 2008, and until their young pitching staff progresses a little bit, I anticipate them staying that way for a couple more years.
The A's traded away their lone ace Rich Harden to the Chicago Cubs before the deadline last season. Unfortunately, with all of the injuries he suffered with the A's, he wasn't really able to do much for them.
Unfortunately, this left Oakland's starting rotation pretty much empty, Justin Duchscherer being the exception, although he is out until June.
They do have a few young pitchers with a lot of potential in Trever Cahill, Josh Outman, and Brett Anderson, but they won't be ready to put up big numbers for at least a couple of years.
The A's bullpen is average, highlighted by Russ Springer, Jerry Blevins, and young closer Brad Ziegler.
Ziegler burst onto the scene in 2008, setting the record for most scoreless innings pitched to start a career (39), and he's fitting nicely into the closer role so far this season, although it isn't all that hard to fill Huston Street's shoes.
The Athletics did take a step in the right direction this offseason by improving their lackluster offense, with the additions of stud left fielder Matt Holliday and first baseman Jason Giambi, who started his career with Oakland back in 1995.
Even with these improvements, though, the Oakland offense is still fairly mediocre. They do, however, have a nice, powerful middle of the order with Holliday, Cust, and Giambi. That's enough to strike some fear into the hearts of most pitchers.
The A's aren't exactly off to a great start—they're currently sitting at a 7-11 record—but I do think things will improve for them, especially come June when they have Duchscherer back at the top of the rotation.
Overall, Oakland has improved since last season, and should have a slightly better 2009.
My bold prediction: third place, AL West, 77-85.
Tomorrow: Texas Rangers.