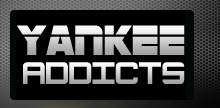 April 26, 2009 · Griffin Cooper · Jump to comments
Article Source: Bleacher Report - New York Yankees
There's already a lot of speculation going on about who is going to the playoffs in 2009.
As usual, a lot of teams are off to surprisingly good starts. Some of these teams include the Blue Jays, Padres, Pirates, Marlins, Royals, and Mariners. I'm going to focus on the Mariners.
We all know about the disaster that was the 2008 Seattle Mariners season. They finished with a 61-101 record, the worst in the American League and the second worst in all of baseball, behind the always lovable Washington Nationals.
It was an awful season in pretty much every way possible, including, but not limited to: one of Bill Bavasi's going-away presents, Carlos Silva, going 4-16 with a 6.46 ERA, Erik Bedard missing the majority of the season with hip problems, Richie Sexson having a forgettable first half and being released midway through the season, along with many other problems.
But, during the off-season the Mariners hired a capable GM in Jack Zduriencik, and former A's bench coach Don Wakamatsu as their manager. Jack Z made a few very impressive moves over the off-season.
First, he signed veteran first baseman Russell Branyan. Russell (The Muscle), is a guy with a tremendous power upside who has never really had the opportunity to be an everyday player.
He's been given the chance to do that so far in 2009 and he's looked fantastic, leading the M's in HR with four and sporting a .309 BA.
Then, in a great trade, he traded away RP JJ Putz, RP Sean Green, and OF Jeremy Reed to the Mets for OF Endy Chavez, RP Aaron Heilman, and minor-league prospects Mike Carp, Maikel Cleto, Ezequiel Carrera, and Jason Vargas.
This boosted our farm system tremendously and added some more speed and another good glove to our OF.
On the same day, he traded minor league infielder Luis Valbuena to Cleveland for OF Franklin Gutierrez. This solidified us having a great defensive outfield.
A couple of other big moves in the off season included signing Ken Griffey Jr. to a one-year contract, which will get the job of putting butts in seats done nicely, and signing veteran IF Mike Sweeney.
Both of these guys are tremendous clubhouse presences and help the chemistry of the team.
Now, fast forward to the present.
The Mariners are atop the AL West with a 12-7 record.
The Angels are crippled with a buttload of injuries. As of right now, they do not have a good team. They are missing their 2 best pitchers in Lackey and Santana, and their best hitter in Vlady.
They no longer have their best hitter of '08 in Mark Teixeira, or their record setting closer, in Francisco Rodriguez. They, frankly, are not the same team they were last year.
Setting aside Kelvim Escobar, who is on the 60-day DL, the Angels are not going to be a complete team until late May or early June.
The big question is, how much of a gap can the Mariners create before the Angels are at semi-full strength?
Well, they have arguably the best 1-2 punch in the American League, with King Felix and Erik Bedard, with a strong bullpen, and a lights-out closer.
They have a decent balance of speed and power with Branyan, Beltre, and Griffey in the middle of the lineup, and Ichiro and Endy at the top.
The Mariners though, are not without injury either, their up and coming young starting pitcher Ryan Rowland-Smith is out for a few weeks, and so is their starting catcher Kenji Johjima.
Currently, Chris Jakubauskas and Rob Johnson, respectively, are filling those 2 holes. Jak is ok, but his role for this season is probably going to be long relief once Rowland Smith is back, and Rob Johnson is occupying the catcher spot without too many problems, and providing some occasional offense.
A few very important spots for the Mariners this year, are going to be the 3 and 4 starters, and SS.
Jarrod Washburn is off to a good start, with a new sinker grip, while Carlos Silva looks slightly better than last year, but still pretty bad.
Yuniesky Betancourt refuses to change his over-aggressive approach at the plate, and his defense is declining.
How these three spots are going to turn out, I don't know, but I can safely predict that it is going to be crucial towards whether or not the Mariners make the playoffs.
A quick look at the two AL West teams I haven't mentioned.
The Rangers, as usual have the best offense in baseball, but as usual, have no pitching to speak of. They won't contend.
The A's also have virtually no pitching, and even with the additions of Matt Holliday and Jason Giambi, still do not have a very intimidating offense. I think they'll have a better year than Texas, but I wouldn't put them any higher than third place.
The way I see it, the race is ultimately going to come down to the Mariners and the Angels. Yes, it is early, but the Mariners do have staying power and the Angels are not the AL West superpower they were in 2008.
Look forward to September, Mariners fans, unlike last year, we'll still be playing for something.