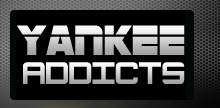 April 27, 2009 · Griffin Cooper · Jump to comments
Article Source: Bleacher Report - New York Yankees
Over the next month or so, I'm going to break down a different MLB team each day, and make a bold prediction as to what they're looking at, position wise, come September.
Naturally, I'll start with my team—the Seattle Mariners.
It was painfully obvious last year, that the Mariners were not a good team. Suffice to say, almost nothing went right in a 101 loss, last place season. The 2008 Mariners were also the first team in history with a $100 million payroll to lose 100 games. Not an accomplishment to be proud of.
This year, though, there is a completely different atmosphere surrounding the Seattle Mariners.
During the off season, they got a new GM, a new manager, three new outfielders, a new first baseman, a new DH, a new backup infielder, and three new relief pitchers.
First, the new GM—Jack Zduriencik. Jack spent the last nine years or so in the Brewers organization, and played a big part in turning them into a playoff caliber team. During his first few months on the job, he made several low risk, high reward transactions, which have already proved to have a big impact on the ball club.
Possibly the best move he's made thus far, was hiring the Mariners new manager.
Which brings us to Don Wakamatsu. He was most recently the bench coach for one of our division rivals, the Oakland A's, and on November 19, 2008, became the first Asian manager in the history of Major League Baseball.
The Mariners have a whole different feel with Wakamatsu at the helm. With him came a small ball style of baseball, with which the 2008 Mariners were not familiar with.
The M's are a team that has to make due without a real powerful offense, and this new game plan of moving up runners and station to station baseball is helping them do that.
Now, onto the players. Defensively, there's little to worry about. The outfield is nice and comfy with Ichiro, Endy Chavez, and Franklin Gutierrez.
In the infield, the only hole is at SS, which Yuniesky Betancourt patrols in his whimsical way. Luckily, it looks as though if Yuni doesn't step it up defensively and offensively, that spot will soon be occupied by Ronny Cedeno, a much better defensive player.
Aside from that, the infield is nearly error free with Adrian Beltre at third base, Jose Lopez at second base, and Russell Branyan at first base—he's new, but he looks fine there so far.
The Mariners pitching looks fantastic so far. They have the third best team ERA in all of baseball at 3.50, and the best 1-2 punch in the American League when healthy, with King Felix Hernandez and Erik Bedard.
The rest of the rotation is a bit blurry, currently the other 3 are Silva, Washburn, and Jakubauskas.
Silva had a dreadful 2008 season, and although he looks a little bit better this year, there is still a lot of work to be done before he can help this team rather than hurt them. As of right now, he's really not fooling anyone.
Jarrod Washburn had a similar 2008, but has come back in 2009 with a new sinker grip, and it seems to have paid off, as he's looked very solid in three of his four starts.
Jakubauskas is just filling in as the No. 5 starter, until Australian lefty Ryan Rowland-Smith returns. Jak's future with the Mariners, for 2009 at least, appears to be in the bullpen.
The only real issues with the Mariners bullpen are the lack of a southpaw, and Roy Corcoran. The first problem will hopefully be solved in a month or so when Cesar Jimenez returns from the DL.
As for Corcoran, he had a great year in 2008, but if he doesn't stop sucking every time he pitches in 2009, he'll probably end up in Triple A Tacoma.
Last but not least…well, okay, least, is the hitting. The Seattle Mariners have anything but an overpowering offense.
It's not quite as bad as their .253 team BA suggests, though, due to the current under performing of players such as Adrian "no luck" Beltre, and Jose "Loafie" Lopez.
When these two start hitting, it should provide a much needed boost to the offense. They also have two newly acquired power hitting lefties in Ken Griffey Jr and Russell "the muscle" Branyan, both good for around 20-25 home runs.
One thing the Mariners offense does not lack, is speed. With Ichiro and Endy Chavez at the top of the order, and Yuniesky Betancourt and Franklin Gutierrez at the bottom, I guess you could say they have speed from top to bottom.
Having good speed greatly increases the number of ways there are to manufacture runs. This is good, because like I said, the M's do not have an overpowering offense.
All around I'd say the Seattle Mariners are a slightly above average team, who are miles and miles ahead of where they were last season. My bold prediction for the Seattle Mariners, in a weak AL West division is:
First place, AL West, 83-79 record.
Tomorrow—Los Angeles Angels of Anaheim