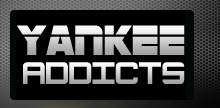 News published by
July 19, 2012
Derek Jeter currently has 3,207 hits (and counting) in his 17-year Yankee career. Jeter is 38 years old and just 793 hits away from joining Ty Cobb and Pete Rose ...
September 17, 2011
Derek Jeter is a first-ballot hall of famer.He has been one of the best people to step on the field in Yankees history.He has five World Series rings—one fewer than ...
September 13, 2011
Jesus Montero's major league debut has been impressive, but has it been impressive enough to earn him a starting role in the playoffs?Montero was the Yankees' No. 1 prospect for ...
August 31, 2011
It's that time of year again. The time when the Yankees and Red Sox rivalry reaches its peak.The Red Sox have beaten the Yankees in 10 of 13 games this year. ...
August 18, 2011
In his career with the Yankees, Derek Jeter has received little criticism from an aggressive New York media.This season, things are different.The Yankee captain went into this season coming off ...
August 13, 2011
It's no secret that A.J. Burnett isn't the best pitcher on the Yankees.He is 8-9 this season with a 4.60 ERA.He hasn't won a game for the Yankees since June ...