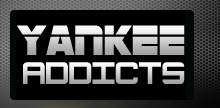 September 13, 2011 · Danny McMaster · Jump to comments
Article Source: Bleacher Report - New York Yankees
Jesus Montero's major league debut has been impressive, but has it been impressive enough to earn him a starting role in the playoffs?
Montero was the Yankees' No. 1 prospect for a long time and his arrival was waited with divine expectations.
Jesus has come, and Jesus has played well.
He is hitting .348 with three home runs and six RBI in the eight games that he has played.
This is unusual for a rookie to hit so well with the New York spotlight shining directly on them, but Montero has passed the New York test with flying colors.
Even though Montero has only played eight games and is largely inexperienced in the MLB, he has shown lots of potential.
But potential alone won't earn him a starting playoff spot. It's one thing to pass the New York media test; it's another thing to pass the New York playoff media test.
If Montero wants to get a playoff spot, he doesn't need to prove to people that he is a good ballplayer, because people are starting to come around to the fact that he can play in the major leagues. Montero needs to play better than than other good ballplayers.
Montero's main competitors for the DH spot are currently Jorge Posada, Eric Chavez and Alex Rodriguez.
Each of these guys brings something different to the table that would make them a good candidate for the DH role in the playoffs.
Chavez is an all-around hitter who would start if he played on any other team than the Yankees. Chavez is an average hitter who hits with decent power. He has filled the third base role for the Yankees in the absence of A-Rod, and has played very well.
He is a .282 hitter with one home run and 22 RBI. Although Chavez only has that one homer this year (keep in mind he hasn't played a lot of games), he always hits the ball extremely hard. This helps him to get the ball past infielders.
Chavez isn't Montero's biggest problem in the DH spot, mostly because Rodriguez's health is a serious question going into the playoffs. If A-Rod's finger doesn't heal for the playoffs, Chavez will play third.
Montero will have to worry about Posada. Posada is a switch-hitter, but let's just pretend he isn't because his numbers from the right side of the plate have been atrocious this year. From the left side, he is batting .273 with 37 RBI and 13 home runs.
This is probably Posada's last year, so Girardi will try very hard to get him in the playoffs. Posada would not directly affect Montero's playing time, because Posada would be matched up with right-handed pitchers while Montero would be matched with left-handers.
Montero's biggest postseason problem is Rodriguez. If A-Rod is in playing condition for the playoffs, the Yankees will want to put him in the DH and send Chavez out to third base to make sure A-Rod doesn't re-injure himself.
A-Rod would likely clog the DH spot for a large part of the postseason, and we would only see Montero in pinch-hit situations.
It comes down to this: If Montero wants a starting playoff spot, he needs to put together a terrific run down the stretch. We will probably see him in these playoffs, but how much we see him is up for his play to decide.
Read more New York Yankees news on BleacherReport.com