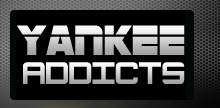 September 17, 2011 · Danny McMaster · Jump to comments
Article Source: Bleacher Report - New York Yankees
Derek Jeter is a first-ballot hall of famer.
He has been one of the best people to step on the field in Yankees history.
He has five World Series rings—one fewer than Jordan.
His career has been unique in that he is one of three shortstops to reach 3,000 hits.
But at the beginning of this season, you thought this might have been a season to throw in the trash. You probably thought (and I was starting to think this myself, at one point), "Well, its been a really great run, but it looks like there's no more gas in the tank for Jeter. I mean, he's 37."
What a comeback it has been.
In the second half of the season, after a short break from an injury, Jeter has turned his season around from awful to extraordinary.
If you look at Jeter's splits this year, its shocking how much better he has played in the second half of the season.
In Jeter's 289 at-bats to start the season, he hit .270 with a .330 on-base percentage. He had 24 RBI and three home runs before the All-Star break.
In the 220 at-bats he has had since the All-Star break, Jeter is hitting .327 with a .379 on-base percentage. That's a 57 percent jump and a 49 percent jump in the respective categories.
He has also knocked in 33 RBI and two home runs in the 74 fewer at-bats that he has had since the All-Star break—a nine-run jump in RBI in much fewer at bats.
This post-All-Star break blowout has boosted Jeter's average to .295 with a .351 OBP.
It's no question that Jeter is a better player after the All-Star break.
The real question is if Jeter is now one of the elite players in baseball.
Sure, Jeter cannot even come close to the numbers of guys like Curtis Granderson or Adrian Gonzalez, but being in the top 25 players in a 30-team league definitely makes you one of the best, right?
If seniority were taken into account here, Jeter would probably be in the top 10 with no argument. But baseball is about this season and what you have done in this season.
And in this season, despite a slow start, Jeter has preformed extremely well.
Against the rest of Major League Baseball, Jeter is much further up in some of the categories than you would think.
Currently, Jeter is 17th in league batting average at .292. He is also 23rd in OBP at .349. Jeter has 150 hits, tying him at 20th in the majors with David Ortiz.
Surprising numbers, but when you look closer at Jeter's second half, they should not surprise you.
When making the argument for Jeter being one of the best players in baseball, you have to look at Jeter at his best—basically, you have to look at his second half.
After the All-Star break, Jeter is sixth in the majors with a .327 batting average (minimum 200 PA).
When it comes to OBP, Jeter is 14th with a .379 OBP.
These numbers Jeter has put up in the second half are amazing. When you factor in that Jeter is part of a playoff team (a team that is a heavy favorite going to win the AL East), that makes his stats look much better. Even though Jeter had an awful first half, his recovery is starting to make him look more like a top-10 hitter every day.
Read more New York Yankees news on BleacherReport.com