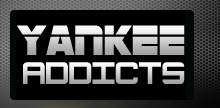 July 19, 2012 · Danny McMaster · Jump to comments
Article Source: Bleacher Report - New York Yankees
Derek Jeter currently has 3,207 hits (and counting) in his 17-year Yankee career. Jeter is 38 years old and just 793 hits away from joining Ty Cobb and Pete Rose as the only players ever to break 4,000 hits.
It might seem stupid to think a 38-year-old can get 800 more hits in his career, but Derek Jeter is a lot farther away from retirement than it might have seemed last year.
At Jeter's current pace (barring any injuries), he is collecting about 200 hits a season and is on pace for 100 more in 2012. When asked about retirement during spring training this year, Jeter said that he would only retire if he were not able to play the game at a high level and have fun.
So for Jeter to reach 4,000 hits, it would only take him 3.5 more seasons of 200-hit ball. Three-and-a-half more seasons for Jeter doesn't seem too far-fetched.
Since Jeter has never been heavily reliant on speed or power—things that weaken over time—it's not crazy to think he could play a few more years. His inside-out swing is a singles machine, and with the ability to hit in all directions, he is a tough out
While on the offensive side, Jeter may look solid, but a number of critics question Jeter's defense and his range.
Even though there were a lot of questions about whether or not Jeter's career was over in the first half of last year, I think the stress of the build-up to 3,000 hits and a lack of rest may have played a major role in that.
The reason Jeter wasn't getting much rest was because Jorge Posada was clogging up the DH spot. This gave a 37-year-old Jeter little rest in the long, 162-game marathon that is the MLB season.
Now, Joe Girardi has been using the DH spot effectively, giving older guys like Alex Rodriguez and Jeter the occasional day off.
A rested Jeter might be able to play quality shortstop for a lot longer than you might think.
At this point, Jeter's worst fear and biggest obstacle is the New York media. While Yankee fans love Derek Jeter and everything he does, 2011 proves that it just takes one large slump until fans are screaming for Jose Reyes.
Jeter is currently hitting .311, 10th in AL batting average. He's not even close to being done yet, and he's much closer to 4,000 than you might think.
793 hits and counting.
Read more New York Yankees news on BleacherReport.com