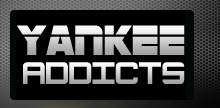 August 18, 2011 · Danny McMaster · Jump to comments
Article Source: Bleacher Report - New York Yankees
In his career with the Yankees, Derek Jeter has received little criticism from an aggressive New York media.
This season, things are different.
The Yankee captain went into this season coming off a bit of a disappointing year, with Jeter batting just .270, his lowest career average, and the Yankees losing in the ALCS to the Texas Rangers.
Jeter started 2011 very slowly, hitting just .256 with five RBI in April. Slowly, we all remembered how cruel it can be to play in New York.
With Jeter batting just .274 in May and then a shocking .239 in June, the media had decided that Jeter was 37 years old and couldn't play like he used to. Thoughts of dumping Jeter into left field and bringing in Jose Reyes from the Mets ran high. The media was almost sure Jeter had run out of gas.
They were wrong.
In the last two months, Jeter is a new hitter. Jeter hit .292 in July, and in August, Jeter is on fire, hitting .417. Jeter hasn't just had a steep incline in batting average, he has improved his overall game. In July and August (149 at-bats), he has 26 RBI. In March, April, May, and June combined (262 at-bats), Jeter had 20 RBI.
Jeter's power numbers are even up. In March, April, May, and June (262 at-bats), Jeter had 10 extra base hits, with two home runs. In July and August (149 at-bats), Jeter has 12 extra base hits with two home runs.
Jeter's overall stats this year have been given a great boost by this late-season run. He's now batting .291 with 46 RBI, four home runs and a .350 on-base percentage.
These numbers aren't even very far off from his career average. Jeter is a career .313 hitter with a .383 OBP. He averages about 70 RBI and 14 home runs.
Right now, Jeter isn't even very far from his career averages, and with the streak Jeter is on, and about 40 games left in the regular season, he has a very good chance to have an above-average year.
With the way Jeter has been hitting recently, he has come back to his normal self and then some. Jeter has been knocking the cover off of the ball, and he has shown that he isn't too old to play. If he can keep up his current streak, he has a chance at having a well above-average season.
Jeter has returned to his former self and is playing great.
Read more New York Yankees news on BleacherReport.com