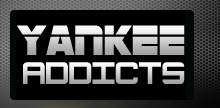 News published by
May 7, 2009
In an article posted on the New York Yankees website regarding the 50 game suspension of Manny Ramirez, writer Anthony DiComo wrote: "The natural reaction of those in the Bronx is ...
April 27, 2009
The Yankees' bullpen and front office miscues are going to keep the Yankees from being respectable this season. After spending close to half a billion dollars on three players in ...
April 24, 2009
The Boston Red Sox had no right winning this game. The Red Sox and Jason "Canadian Bay-con" Bay jacked up Mariano Rivera (again) and Kevin Youkilis further demonstrated why he wants ...
April 22, 2009
Call the bomb-squad.  Yankee Stadium has been hit daily Apparently, right field at the new Ballpark in the Bronx is a home run tunnel.  Buster Olney of ESPN has recently addressed ...