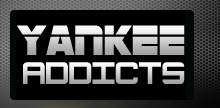 April 22, 2009 · Andy Lindberg · Jump to comments
Article Source: Bleacher Report - New York Yankees
Call the bomb-squad. Yankee Stadium has been hit daily
Apparently, right field at the new Ballpark in the Bronx is a home run tunnel. Buster Olney of ESPN has recently addressed this problem.
This is a big problem for the Yanks, seeing has how to this point today, CC Sabathia has given up six earned runs to the A's and four total homers have been hit. The Yankees went out and spent a fortune on both Sabathia and A.J. Burnett.
If there is a home-run problem at the new stadium, which there seems to be, ERA's are going to be greatly inflated on their high-priced studs.
Well, the Yankees won 26 World Series titles in the old stadium. If it ain't broke, don't fix it. There was no real need for this new stadium. I went to Yankee stadium last year, and sure, it cold have used some renovations, but nothing really major.
The original stadium is slated to be demolished mid-summer. We don't know if this will have an effect on the home-run alley. If it does, problem solved. If not, I stick by the new stadium being cursed.
The Yankees have always prided themselves on pitching prowess, as Olney mentions, but no matter who pitches in that park, it's going to be tough throwing in the East Coast Coors Field.
Just wait until the Red Sox visit that park. David Ortiz, JD Drew, Jason Varitek are all batters with power from the left side. If Jacoby Ellsbury goes yard a few times, that's a lot of trouble.
Or, the Yankees can count on Johnny Damon hitting 50 home runs this year.
If I were the Yankees, I'd think about re-sodding the original stadium before it's too late.